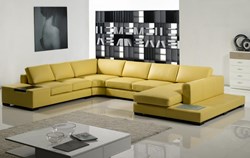 Modern Furniture Store Los Angeles
Los Angeles, CA (PRWEB) February 07, 2014
Global Furniture USA was one of the first modern home furnishings manufacturers to team with DA Stores when it was founded in 2006. Since then, thousands of customers have come to know and trust both companies for the quality, affordability and customer service. Global has become a formidable importer of exceptional furniture with Asian, European and French accents.
A few of the modern home furnishing choices include exceptional dining sets, chic platform beds and stylish contemporary living room furniture ideal for any homeowner's taste. Shoppers can select from wood, glass, leather and more for incorporation into their choices.
"For us, it came down to selecting a partner that was versatile enough to have something for all of our customers. Many lean towards the clean, chic look and feel of contemporary design elements while others are faithful to a more traditional look and feel in their homes. Global Furniture meets those challenges," said a company spokesperson.
With spring quickly approaching, the home furniture market is preparing for an influx of new trends and styles. For customers considering new furniture, it really is a great time to take that leap. "We are really excited with these new creative elements in many of the manufacturer's offers and we're sure our customers will feel the same. At times, the seasons can transition with very little variation. This year, though, everything has a new vibrancy and unique design element," said the spokesperson.
About DA Stores
DA Stores is located in the heart of Los Angeles. Founded in 2006, it quickly became one of the most recognized brands on the west coast. Since then, the company has expanded to the national level and now enjoys growing success on an international level as well. Its mission to ensure affordable pricing for high quality modern home furnishings remains as solid today as it did in 2006. New warehouses strategically located around the nation ensures a fast delivery turnaround for customers, regardless of where they live.