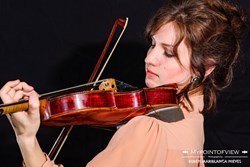 'We're excited about the opportunity to share quality music with our guests. This concert series will significantly impact our ability to serve our community and highlight the arts in Hatboro. Join us!', exclaims Pastor Doug Stratton, Sr. Pastor
Hatboro, PA (PRWEB) January 15, 2014
Arts and Cultural enthusiasts will enjoy world-class music at Hatboro Baptist Church, featuring artists from around the world. This 4 concert series has been planned by Hatboro Baptist Church Music Director Mark Livshits, PhD Candidate (Performance Piano) and a select team including Senior Pastor Doug Stratton, Worship Ministry Leader Becky Pettineo, and Music Ministry Assistant Ian Johnson.
Dates: 1st Saturday of the month (February – May 2014)
Time: 7 p.m.-8 p.m. (Artist Meet and Greet and refreshments in Fellowship Hall will follow the concerts.)
"We're excited about the opportunity to share quality music with our guests. This concert series will significantly impact our ability to serve our community and highlight the arts in Hatboro. Join us!" exclaims Pastor Doug Stratton, Sr. Pastor, Hatboro Baptist Church
Featured Artists:
February 1 – Pianist Timur Mustakimov - A prizewinning Russian pianist, Timur studied at the Kazan State Conservatory and Mannes College: The New School for Music, where as a pupil of Vladimir Feltsman, he earned a Master's Degree and Professional Studies Diploma. He has performed with the Symphonic Orchestra of the Republic of Tatarstan, Judson Valley Philharmonic, and Mannes Orchestra at Alice Tully Hall. And currently is continuing his education in the United States.
March 1 – Violist Adelya Shagidullina - A prizewinning Russian violist, Adelya has been selected as principal violist of numerous international orchestras under direction of such prominent conductors as Yuri Simonov, Alexander Sladkovsky, Eduard Schmieder, Luis Biava, and Rosen Milanov. She was selected to join iPalpiti orchestra for its east coast residency in 2009, and has since performed as an orchestra member and soloist in concerts throughout America. Venues included the Kimmel Center in Philadelphia, Carnegie Hall in New York, and Disney Concert Hall in Los Angeles. In the spring of 2013, Adelya Shagidullina was accepted into the Doctoral program at Temple University where she currently studies with professor Daniel Avshalomov.
April 5 – Soprano Pei Ju "Peggy" Yu - Soprano Pei-Ju (Peggy) Yu received her Master's degree in Voice Performance at Temple University's Esther Boyer College of Music after completing her Bachelor's degree in Voice Performance in Taiwan. In the Spring of 2013, Ms. Yu performed with the Temple University Opera Theater as Lauretta in Gianni Schicchi and as Suor Genovieffa in Suor Angelica. She was also featured in the annual Temple University Orchestra Concert held at the Kimmel Center as the lead soprano soloist in Prayers of Kierkegaard by Samuel Barber.
May 3 – Vocalist / Tenor Ian Johnson - Ian Johnson hails from Oroville, CA. He has won scholarships to study and perform at La Schola Cantorum in Paris, France; Temple University in Philadelphia, PA; CSU Chico in Chico, CA; and is a winner of the Chico Theater Company scholarship. Ian will share Uplifting Songs for Voice and Piano.
Rate: Ticket price is $15 for individual concert or $40 for the series of 4 ($20 savings). Tickets may be purchased in advance through the church website using credit/ debit card or e-check; or contact the church office for cash payments at 215-675-8400. Proceeds to benefit the Hatboro Baptist Church Music Ministry and acoustic improvements. All donations are accepted and greatly appreciated.
Address: 32 N. York Road, Hatboro, PA 19040 - Free Parking.
Child Care: Please let us know if you would require Child Care (infant – 5th grade).
Hatboro Baptist Church's working mission is "connecting people to God and one another that we might be made whole." Our Core Values include: Worship, Service, and Relationships.
For more information, visit http://www.HatboroBaptistChurch.org or call the office at 215-675-8400.