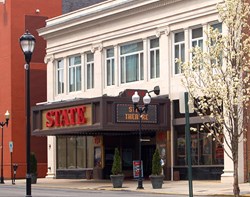 (PRWEB) January 15, 2014
The concert industry's leading trade publication, Pollstar, has announced that State Theatre is ranked #21 in its "2013 list of Top 100 Worldwide Theatres" based on tickets sold worldwide as reported to the magazine. This ranking places State Theatre #1 in New Jersey for the second year in a row.
"We are simply thrilled with this accomplishment," stated State Theatre Board Chairman Warren R. Zimmerman (of Piscataway, NJ). "This is a testament to the hard work of our dedicated Board, staff, and volunteers. We owe this honor to our many contributors and customers who continue to support our diverse presentations."
State Theatre President & CEO Mark W. Jones added, "An integral part of our mission is to make a positive impact on our community's residents, and the local economy. Growth in ticket sales means growth in State Theatre audiences, and this surely benefits us as well as the many businesses in New Brunswick, and surrounding areas. How far we've come these past two years! We'd like to extend a heartfelt thank you to the artists, agents, managers, and all our partners for an amazing year." According to Pollstar, in 2011, State Theatre ranked 71st in the world and in 2012 rose to 24 on the list.
New Jersey had five venues make Pollstar's 'Top 100' cut in 2013—State Theatre (#21) in New Brunswick, Prudential Hall at NJPAC (#26) in Newark, Count Basie Theatre (#47) in Red Bank, Mayo Performing Arts Center (#49) in Morristown, and Bergen Performing Arts Center (#59) in Englewood.
In addition to Pollstar's ranking, Venues Today (another industry magazine) published its 2013 year-end report of "Top Stops," ranking State Theatre #1 venue in the world in the 2,000 and under seat capacity category, based on concert and event revenue from October 16, 2012 to October 15, 2013.
Other recent State Theatre accomplishments include increasing its overall attendance by 33% since June 30, 2011; tripling its average orchestra attendance in three years; doubling the number of Broadway performances to 18 in 2013-2014; presenting 175 education and outreach events that served 30,000 people in 2012-2013; and in 2011, installing a state-of-the-art HD projection system, including a 46-foot screen (one of the nation's largest proscenium screens), to broadcast international opera and dance, and show a large variety of movies.
State Theatre, a premier nonprofit venue for the performing arts and entertainment. The theater exists to enrich people's lives, contribute to a vital urban environment, and build future audiences by presenting the finest performing artists and entertainers and fostering lifetime appreciation for the performing arts through education. The State Theatre's programs are made possible, in part, by funding from the New Jersey State Council on the Arts/Department of State, a Partner Agency of the National Endowment for the Arts, and contributions from numerous corporations, foundations, and individuals. The Heldrich is the official hotel of the State Theatre. Magic 98.3 is the official radio station of the State Theatre. The Star-Ledger is the official newspaper of the State Theatre. United is the official airline of the State Theatre.
STATE THEATRE
15 Livingston Ave
New Brunswick, NJ 08901
Ticket Office - 732-246-SHOW (7469)
Online - http://www.StateTheatreNJ.org
PHOTOS FURNISHED UPON REQUEST
Please contact Kelly Blithe at
732-247-7200, ext. 542 or by email at kblithe (at) StateTheatreNJ (dot) org.
Up-to-the-minute information on events and State Theatre news,
online at http://www.StateTheatreNJ.org.