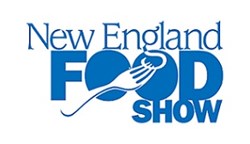 Portland, ME (PRWEB) January 17, 2014
The New England Food Show, being held March 16-18, 2014 at the Boston Convention and Exhibition Center in Boston, MA, has opened online and phone registration for the 2014 show. The event is sponsored primarily by the Massachusetts Restaurant Association, and partners with other regional retail, specialty and hospitality groups.
The New England Food Show (NEFS) is the region's largest trade show and industry- education event focused on the retail and foodservice markets. Buyers and industry professionals from across New England attend to find inspiration and source new foods, beverages, services and equipment to help establish, build and grow their business. From chefs to retail stores, to institutional and healthcare foodservice, NEFS attracts more than 14,500 professionals and more than 350 exhibitors annually. Bringing added value to attendees is the co-location of the event with Seafood Expo North America. Both events take place at the same time, same place, and share access points throughout the show to allow those wishing to visit both shows the ease of doing so.
The following show highlights and features are in production for the 2014 show:

350+ Exhibitors featuring foods, beverages, equipment, services, supplies and more!
Culinary Demonstrations & Competitions
Keynotes & Center Stage Education
Massachusetts Restaurant Association Info Sessions
At-Show Only Buying Specials from Exhibiting Companies
The Author's Corner Book Store
New Product Showcase
Servsafe® recertification programs
Industry professionals and buyers wishing to register to attend, can do so at http://www.nefs-expo.com, or by calling 508-743-8579.
Companies interested in exhibiting at the 2014 New England Food Show should contact Beth Schultzm bschultz, sales(at)nefs-expo(dot)com.
About New England Food Show
The New England Food Show is produced by Diversified Communications. Sponsored by the Massachusetts Restaurant Association and supported by other New England state restaurant, retail, hospitality and specialty food associations, NEFS is the region's largest and most attended trade show for retail food and foodservice buyers and professionals. http://www.nefs-expo.com
About Diversified Communications
Diversified Business Communications provides information and market access through magazine publishing, online resources and trade exhibitions on four continents. Diversified's core markets include the commercial marine, food and seafood industries. In addition, they produce leading events across several markets such as finance, building and construction, healthcare and textiles. http://www.divcom.com