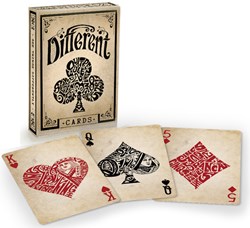 You could spend hours exploring these cards and keep discovering something new.
Provo, UT (PRWEB) January 17, 2014
Abracadabra! Master magician Brian South has just played a remarkable winning hand with the launch of a unique, mind-challenging deck of cards.
Within the first 30 hours, South achieved his first financial goal on the Kickstarter fund-raising website conjuring up more than $20,000 from 500 backers. He's now seeking a further round of financial applause with additional Kickstarter offers for his cards, aptly called "Different Deck."
Like most sets of playing cards Different Deck has 54 cards—but that's where the similarities end. These cards are visually stunning pieces of art, bursting with images, words, numbers, secret symbolism and other hidden elements.
In fact, there are more than 100 different languages and numeric systems featured in this desk, plus symbolism and imagery in each card—some of it based on South's globe-trotting visits to ancient monuments whose mystique has fascinated him since childhood. There are science, math and historical references and even pop culture icons buried in the deck, layer upon layer.
There is no Queen of hearts but there is a heart of Queens; instead of a 5 of diamonds there's a diamond made up of 5's, and so on. Look closely at the Queen of spades and you will not only see the word 'queen' written in several languages, you will also discover a queen chess piece, a Queen Elizabeth signature…and a whole lot more.
Says South, "Every dot, every swirl, every language and every hidden item was placed where it was placed with thought and purpose. The more you look at a card, and the more you look for hidden elements, the more you will find—things like ambigrams and words sharing letters, like the 'T' in one word making an 'X' in another.
"Different Decks is unique. There has never been anything remotely like this. It is much more than a deck of cards; it is art. It is a constant reminder to explore, to think outside the box, and look for more. You could spend hours exploring these cards and keep discovering something new."
South, who worked as a full-time magician for several years, is founder and owner of Teach By Magic, an exciting program that helps teachers use tricks, puzzles and other wonder-filled demonstrations for more captivating lessons. He spent eight years developing Different Deck and for the final year collaborated on a daily basis with Florida artist Nike Meyer who was able to visually bring his vision to life.
While there is an obvious market for Different Deck among playing card aficionados and collectors, South believes the deck will have mass market appeal and sees them on the shelves of major supermarkets and convenience stores.
South has many years of experience in the world of magic. With his wife, Rebekah, he built a company called Creative Magic which makes magic props for magicians as well as illusions for some of the biggest names in the industry.
The next goal with Kickstarter is to raise a total of $80,000. South has many other tricks up his sleeve and participants will be given the key to fun surprises and secret reward levels.
Check out the Different Deck Kickstarter campaign by visiting: http://www.kickstarter.com/projects/872009742/different-deck-playing-cards-reinvented.
For more information about Teach By Magic, go to: http://www.teachbymagic.com.