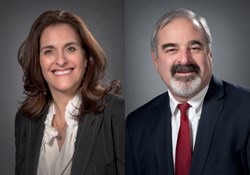 GREAT NECK, NY (PRWEB) January 15, 2014
The North Shore-LIJ Health System today announced the appointment of Laura S. Peabody, JD, as its new senior vice president of legal affairs and chief legal officer, and Andrew Schulz, JD, as vice president and general counsel. She succeeds Keith Thompson, JD, who retired last fall.
Ms. Peabody comes to North Shore-LIJ from Harvard Pilgrim Health Care, where she served as chief legal officer, and managed legal, internal audit, compliance, policy and government affairs, real estate and the organization's Medicare strategy. In addition, she was chair of the Harvard Pilgrim Health Care Foundation, a position in which she made a positive impact on children throughout New England through the Healthy Kids program.
Previously, she was vice president and deputy general counsel at Blue Cross and Blue Shield of Massachusetts, Inc., responsible for all legal matters relating to corporate operations. She began her legal career as an associate at McDonough, Marcus, Cohn & Tretter, PC in Manhattan, and at Choate, Hall & Stewart in Boston. Ms. Peabody received a law degree from Boston University School of Law, and a bachelor's degree from Binghamton University's Harpur College.
Because of the broad, ever-growing responsibilities of legal affairs, the health system decided to create two leadership positions within the department. In addition to Ms. Peabody's appointment, Mr. Schulz has been promoted to the position of vice president of legal affairs and general counsel, overseeing day-to-day operational issues within the department and reporting to Ms. Peabody. He has been with the health system for more than 14 years and has served as deputy general counsel since March 2007. Before joining North Shore-LIJ, he was a partner for nine years with the boutique health law firm, Kalkines, Arky, Zall & Bernstein (now known as Manatt, Phelps & Phillips, LLP). He also served in the New York State Attorney General's Office.
About North Shore-LIJ Health System
One of the nation's largest integrated health care systems and the largest in New York State, North Shore-LIJ delivers world-class clinical care throughout the New York metropolitan area, pioneering research at The Feinstein Institute for Medical Research and a visionary approach to medical education highlighted by the Hofstra North Shore-LIJ School of Medicine. North Shore-LIJ cares for people at every stage of life at 16 hospitals and nearly 400 outpatient physician practices throughout the region. North Shore-LIJ's owned hospitals and long-term care facilities house more than 6,000 beds, employ more than 10,000 nurses and have affiliations with more than 9,400 physicians. With a workforce of more than 47,000, North Shore-LIJ is the largest private employer in New York State. For more information, go to http://www.northshorelij.com.