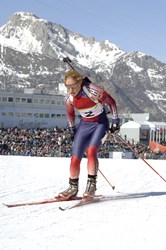 Orange Beach, AL (PRWEB) January 15, 2014
Olympic biathlon athlete and Columbia Southern University student Tracy Barnes has worked many years to realize her dream of qualifying for the U.S. Olympic Team.
She has spent more than 15 years training beside her twin sister Lanny to become of one of the best in biathlon, a sport that combines cross-country skiing and rifle marksmanship.
On Monday, Tracy Barnes informed the world she would give up her spot on the team to her sister, a three-time Olympian who due to illness was not able to qualify. The noble sacrifice has amazed, inspired and simply floored many.
"When you really care about someone, you will do whatever you can to help them. For me, it meant giving up my dream so she could realize hers," explained Barnes. "I believe had she not been sick she would have made the team and I felt she was having an incredible year and going to do some really great things. I was really excited to be able to give her that opportunity."
"I am completely blown away by her selfless act and genuine love for her sister," said CSU vice president Chantell Cooley, who spoke with Barnes. "We are so proud of her and support her and her decision to give up a dream so her sister could achieve her dream. That is just incredible!"
An online business administration degree student at CSU, Barnes said getting a bachelor's degree has been "a huge priority and goal of mine." However, the 32-year-old said, "By the time I reached the age I should have graduated, I had attended six or seven different universities all over the country because I just couldn't stay in one place to get my degree."
She said CSU has truly helped her get an education.
"The faculty and staff have been amazing. It has been perfect for me because I could do my homework in the airports. I could turn in my assignments when I was in Italy or Russia or wherever. CSU has been the perfect fit for someone who does not fit into that traditional mold," she said.
Barnes hopes to use her education to help her launch a business with Lanny next year. "We at CSU are so excited that her online education can help her with the next step in her career," added Cooley, who discusses education and more about Barnes at her Empower U blog.
CSU offers online associate, bachelor's, master's and doctoral degree programs in various fields such as fire administration, occupational safety and health, criminal justice and business administration.