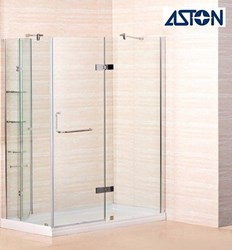 "The Aston brand has always stood for functionality and beautiful design in the home improvement marketplace."
Dallas, TX (PRWEB) January 16, 2014
Aston Global, designer and manufacturer of high end bath and shower devices, have positioned themselves to become a category leader in the bathroom devices market for 2014 with an expanded and refreshed product portfolio. This year marks the fifth consecutive year for positive growth for the Aston brand in the United States in the plumbing/bathroom/home improvement sector.
Aston Global will be strategically marketing the brand and expanding their presence online throughout the year with premier select eCommerce partners, design expos, industry professional organizations, and other select parties. With the increasing refreshed product line Aston brings to the US, a larger opportunity has presented itself to achieve sustainable growth and national awareness for the future.
Rick Burks, Vice President at Aston Global USA, declares "The Aston brand has always stood for functionality and beautiful design in the home improvement marketplace. This year we are poised to obtain a larger consumer share through a growing beautiful product line, popular consumer pricing, aggressive marketing efforts, and enhanced customer service."
The time is right for Aston to expand its domestic presence. Customer satisfaction and feedback is in the highest percentile for its shower and bathtub categories, with contractors, property owners, and interior designers making repeat orders for their renovation projects with Aston. An exciting growth in the bath devices category symbolizes the enduring mission of Aston: quality materials, expert detailing, forefront engineering and appealing craftsmanship.
Aston Global will be one of the anticipated vendors at this year's 2014 Kitchen & Bath Industry Show (KBIS) at Booth N1573; and 2014 International Builders Show (IBS) at Booth C4948. The shows run simultaneously in Las Vegas, Nevada from February 4th – 6th and will be held at the Las Vegas Convention Center. The conventions are the leading expos for Kitchen and Bath companies as well as Home Builders in the United States.
Aston specializes in manufacturing luxurious Frameless and Framed Shower Doors/Enclosures, Steam Showers, Steam Baths, Shower Panels, Whirlpool Bath Tubs, Standard Tubs, Walk-In Tubs - all which are guaranteed to revolutionize any bathroom into one's personal oasis. The Aston designers have strived to deliver modern style with lasting durability and forward thinking engineering for over 20 years.
Aston Global products are currently available through major online merchants Overstock, Home Depot, Wayfair, Menards and other nationwide eCommerce partners.