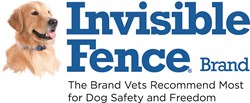 Green Bay, WI (PRWEB) January 17, 2014
InvisibleFence® Brand, the veterinarian recommended brand of pet management solutions, is pleased to announce the recent Perfect Start™ Plus Training certification of the local Invisible Fence by Golrusk dealership.
"The dealership is now certified to safely train Northeast Wisconsin and surrounding areas pets using the most advanced containment and avoidance pet training protocol that has been reviewed and approved by an esteemed panel of animal behaviorists, trainers, and veterinarians," said Georgia Welch, National Training Instructor, Invisible Fence® Brand.
Welch has an extensive background in training and has worked with people and their pets for 35 years, spending the last 20 years devoted to Invisible Fence® Brand. She began her career working for one of the early pioneers in the animal behavior field and has participated in a variety of training seminars with top trainers and behaviorists.
For 40 years, Invisible Fence® Brand has led the electronic pet containment industry in innovative ways of training. Now, the brand takes those efforts to a new level with its improved pet training protocol. Perfect Start™ Plus Training has been developed with animal behaviorists, trainers and veterinarians to maximize containment results and allow cats and dogs to learn their boundaries without fear of distress.
"Our customers rely on us for our expertise, so not only are we continually innovating our products, we are also enhancing our training skills and knowledge of animal behavior so that our customers feel confident knowing that their pets are safe and are trained the right way," said Tera Fox.
Every Certified Perfect Start™ Plus trainer has completed rigorous online training and testing designed by Certified Applied Animal Behaviorists, and has passed a hands-on evaluation of specific skills to implement Perfect Start™ Plus training protocol correctly.
The Perfect Start™ Plus Training Program is a systematic, customizable, and gentle approach consisting of four steps: Evaluate, Adjust, Practice and Affirm. These training methods ensure the best possible results with cats and dogs of any breed, age or size.
# # # # #