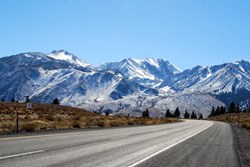 The mild winter has certainly attributed to the good catching...I can honestly say the fishing is currently the best I've ever seen.
Mono County, CA (PRWEB) January 15, 2014
Skiing and Hiking? Mono County's Unusual Winter
Snow may be proving to be an elusive commodity this season, but California's Eastern Sierra has received enough base snow and—with the help of cold temperatures and snowmaking—skiing opportunities still abound. With 15 lifts accessing over 50 trails, Mammoth Mountain has the most skiable terrain in California and all base areas on the mountain are currently open, including Eagle and Canyon lodges. June Mountain, a short 20 minute drive north from Mammoth Lakes, is also open with limited terrain. June Mountain is an ever-popular family resort, where kids under 12 ski and ride free all season with no restrictions. The ideal place to learn to ski and snowboard, June Mountain is committed to providing industry-leading lesson programming. New this year: June Mountain's deer mascot appears every Saturday at 3:30 p.m. for Bonfires with Bucky at the mountain's Mid-Chalet.
Save the Date: Plan to be in June Lake for two family-friendly events happening Feb. 28-March 1, 2014. Both the June Lake Winter Festival and the Snowmobile Poker Rally are combining forces to create a weekend full of snowy fun. The June Lake Winter Festival includes a Triple Threat Triathlon (cross country skiing, snowshoeing and laser-rifle shooting) and a Family Fun Zone with free games and activities at the base of the June Mountain, plus a snow sculpture competition along Main Street. The Snowmobile Poker Rally provides the opportunity for friendly winter competition on snowmobile trails that stretch from June Lake to the heights of Glass Mountain. For more information, log onto VisitJune.com.
The Tamarack Cross Country Center in the Mammoth Lakes Basin is open with 12 kilometers of groomed trails accessible for skating and striding. Lessons, rentals, and tours are available. Full Moon tours on snowshoe and Nordic skis are scheduled for Feb. 12-15 and March 14-16. Call 760-934-2442 (ext. 8) to reserve a spot.
The town of Mammoth Lakes is also home to an open-air ice rink. Public skate is scheduled daily from 2:30 to 5 p.m. (additional hours during holiday weeks) with Learn to Skate Night every Friday evening. Skate rentals are available and a refreshment stand is on-site for hot chocolate and snacks.
At lower elevations in the county, the snow-free terrain means easy access to hiking and fishing, just two of Mono County's favorite activities. Tom Loe of Sierra Drifters Guide Service notes on SierraDrifters.com that the fly-fishing on the Upper Owens River, south of Mammoth Lakes, has been "nothing short of spectacular."
"I have been fishing the Upper Owens all my life… I can honestly say it has improved, and is currently the best I have ever seen. The mild winter has certainly attributed to the good 'catching' however the quality and size of these Crowley Steelhead is boggling," said Loe in a recent Fishing Report. Sections of Hot Creek and East Walker River are also open under special year-round, catch & release fishing regulations, and the West Walker River opens for year-round fishing as of March 1, 2014. Topaz Lake, located in northern Mono County at the California-Nevada state line, opened to anglers January 1 with a free, cash-prize derby that runs until April 13, 2014. Hiking trails around Convict Lake, along Lower Rock Creek and to Parker Lake are in good shape and offer beautiful winter scenery not normally accessible this time of year.
For those just wanting to enjoy a scenic drive with vistas of frozen waterfalls and icy lakes, the June Lake Loop/Hwy. 158 is open end-to-end. The road to Bodie State Historic Park (SR 270) is also open and provides a rare opportunity to see the extraordinary "unrestored" ghost town in winter light. The park is open daily from 9 a.m. – 4 p.m. (Please note: The last 3 miles to Bodie are rough dirt road; drive slowly and use caution). Highway 120 East, between June Lake and Lee Vining is open with access to Mono Lake's unique South Tufa Reserve and the interpretive boardwalk which winds its way down to the lake's intriguing and photogenic shoreline.
Monitor Pass (Hwy. 89) is also open, as is Lundy Lake Road and Rock Creek Road, just past Rock Creek Lake. Rock Creek Lodge offers a superb multi-course dinner at their beautiful winter lodge retreat every evening.
Keep your eyes open for wildlife–coyotes have been spotted frequently, and some deer and bear remain active. Tioga Pass (Hwy. 120) and Sonora Pass (Hwy. 108) remain closed at this time.
Flightseeing tours of the region's snowy mountains and lakes, Mono Lake, and Bodie are available with Sky Time Helicopter Tours.
Located approximately 315 miles north of Los Angeles, and 280 miles east of San Francisco, Mono County accesses the east entrance to Yosemite National Park and beckons visitors in all seasons. Whether taking advantage of direct one-hour flights from Los Angeles International Airport (LAX), San Francisco (SFO), San Diego (SAN) and Orange County (SNA) to Mammoth Yosemite Airport (MMH), or arriving by car on the all-weather US Hwy. 395, the Eastern Sierra's vast playground is an easily-reached destination. US Hwy. 395, which traverses Mono County from north to south, is a State Designated Scenic Byway offering motorists tremendous vistas right from the steering wheel and side-roads, hiking trails, lakes, and roadside villages and towns to explore. For more information or to request Visitor Guides, go to MonoCounty.org or call 800-845-7922.