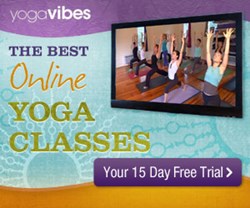 *Participants will be able to tweet or share (via Facebook) a custom link with the potential to earn 5 bonus entries for each individual who enters the giveaway via this personal link.*
Charlotte, NC (PRWEB) January 17, 2014
Yogavibes Launches a Fabulous Giveaway
YogaVibes, a top distributor of online yoga videos, is excited to partner with leading yoga-inspired brands to launch a wonderful giveaway contest starting Friday, January 17, 2014.
Giveaway Details:
Entering to win is easy.
Participants simply input an email address to gain entry to the contest.
But wait – there are more chances to win.
Participants can gain additional entries by:
❏ Pinning a YogaVibes-approved image to Pinterest.
❏ "Liking" YogaVibes' Facebook page.
❏ Sharing the love! *Participants will be able to tweet or share (via Facebook) a custom link with the potential to earn 5 bonus entries for each individual who enters the giveaway via this personal link.*
Giveaway Prizes:
5 lucky participants will be the winners of an Ultimate Yogi Starter Pack featuring the following items:
❏ Eco-friendly yoga mat with life-time guarantee from Kharma Khare (value $145)
❏ Stylish Rise & Shine Jacket from Ellie.com (value $100)
❏ Tote Mat Holder (yoga mat strap) from prAna (value $20)
❏ One year of unlimited online yoga courtesy of YogaVibes (value $200)
❏ Beautiful handcrafted jewelry from Satya
The Kick Start Yoga Giveaway will only be running for 18 days, so hurry up and toss an entry into the hat for a chance to win some awesome yoga swag.
ABOUT YOGAVIBES
Looking for the best online yoga? Look no further. YogaVibes is the premium source for streaming online yoga classes and free online yoga videos. Hosting a vast selection of yoga videos from the best yoga teachers in the world, YogaVibes makes learning and living yoga easy in everyday life. No more worries about making it to class on time. YogaVibes takes the stress out of finding time for yoga. Stream yoga online at the office, at home, at the airport...wherever and whenever. Sweat, stretch, explore, unwind or bliss out - join YogaVibes today: http://www.YogaVibes.com.