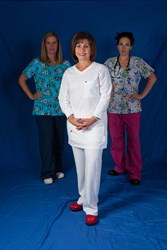 "Our SHAPES line of healthcare apparel is designed to be a comfortable, yet beautiful, alternative to scrubs." – June DeAngelis, Founder.
(PRWEB) January 16, 2014
Brenda June, a new company dedicated to changing the image of the healthcare industry, has begun selling its designer medical apparel. A beautiful and comfortable alternative to scrubs, the SHAPES line gives caregivers a choice to look better and more professional in the workplace.
"My nursing background was a driving force in the creation of our SHAPES clothing line to be a comfortable, yet beautiful, alternative to scrubs," stated June DeAngelis, Founder.
The unique and exclusive "Brenda June Optic White" fabric was designed and created to be eye-catching and allow the use of bleach in laundering. The use of bleach is one of the few ways to help stem the spread of HAI's (Hospital Acquired Illnesses).
In developing their SHAPES apparel line, Brenda June questioned why professionals in one of the largest industries in the USA - healthcare - have been clothed with garments produced offshore. Brenda June has made bringing jobs home to the USA a foundation of the company. "USA industries have always led the world in workplace safety and innovation, so it's only fitting that our SHAPES are 'Grown, Woven and Sewn in the USA' by American hands," added Ms. DeAngelis.
Brenda June has corporate headquarters in Akron, Ohio, with manufacturing based in the Carolinas, the historic heart of textile production in the USA. For more information, visit brendajune.com or call 855-NOT-SCRUBS.