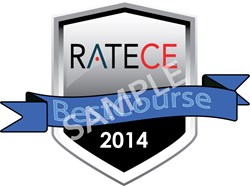 Look for the 'Best Course' Shield on every dental continuing education course.
Studio City, CA (PRWEB) January 16, 2014
Based on unbiased reviews written exclusively by dentists who are attending a dental continuing education seminar or meeting, RateCE, LLC awards the "Best Course" Shield to those dental continuing education courses that consistently rate 4 stars or higher.
Up to this date, dentists and other dental healthcare providers had no way of determining the best-of-the-best dental continuing education. Previously, dentists and staff had to depend on single testimonials displayed on course sponsors' web sites, a recommendation from a colleague or the advertising content of the sponsor. With the launch of RateCE.com, there is now a reliable, unbiased, unaffiliated way to evaluate the value of dental continuing education. Reviews, immediately available online, are submitted by attendees while still at the course ensuring the accuracy and reliability of the review.
"At RateCE, LLC we feel it is our obligation to help courses that receive high ratings and reviews, to promote their offerings," said Laurence Barsh, DMD Founder and CEO of RateCE, LLC. "That is why we award our 'Best Course' Shield to those courses that consistently rate 4 stars or higher and advise dentists to look for the shield on every course they take."
The "Best Course" Shield is available to all dental continuing education sponsors who post their courses at RateCE.com, advise attendees to rate and review the course and, when reviews indicate the quality of the course, the shield is awarded. The shield is available in both print and web versions at no cost to the sponsor.
A marketing program for dentists is also available for all who register and rate and review courses.
About Laurence Barsh, DMD
Laurence Barsh, DMD is a retired dentist who founded Snoring Isn't Sexy, a directory for dentists providing oral appliance therapy for snoring and sleep apnea. Dr. Barsh was Assistant Clinical Professor of Operative Dentistry and Assistant Clinical Professor of Oral Diagnosis and Radiology at Harvard School of Dental Medicine. He has published numerous scientific articles and lectured in the United States and abroad on various subjects in dentistry and authored a text entitled "Dental Treatment Planning for the Adult Patient" that was incorporated into the curriculum at a number of dental schools.
About RateCE,LLC
RateCE, LLC is a rating and review program serving the needs of dental healthcare personnel who are mandated by state law to attend continuing education courses to maintain licensure. RateCE.com offers the most comprehensive web site online for ratings and reviews of dental continuing education. RateCE, LLC is dedicated to improving the quality of dental continuing education through unbiased reviews written only by those who are attending the course.. RateCE's goals, simply stated, are to provide recognition to sponsors that provide excellent courses and to ensure that attendees get the absolute best continuing education possible for their investment in time and dollars. RateCE.com is optimized for use on smartphones, tablets, laptops and desktop computers.
To learn more visit http://www.RateCE.com or call 855-5RATECE for more information.