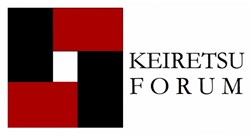 "We are very focused on seeing the Portland chapter grow and believe that Matt can help us achieve that growth." - Nathan McDonald
Portland, OR (PRWEB) January 16, 2014
Keiretsu Forum Northwest has announced that it has appointed Matt Burk as the incoming Co-President of its Portland/OR chapter. Keiretsu is the world's largest angel investor network with over 1,300 accredited investor members throughout 27 chapters on three continents. The Northwest chapters in Vancouver BC, Seattle, Kirkland, and Portland, collectively known as "K4", are operated by Keiretsu Forum Northwest Region President, Nathan McDonald out of Seattle Washington. Burk will serve in his new capacity alongside current Co-President Don Megrath (Managing Director of VectorPoint Ventures) and replaces Angela Jackson (Co-Managing Director of the Portland Seed Fund), who is stepping down after three successful years serving Keiretsu Forum.
Keiretsu members collaborate in the due diligence of presenting companies, but make individual investment decisions as they see fit. After having joined Keiretsu himself as a member in November of 2011, Burk became enamored with the Keiretsu format compared to other angel groups he had seen. "I really liked the structure of Keiretsu versus some of the other angel groups I'd been involved in," said Burk. "The collective knowledge of the members is very diverse. This enables K4 to do tremendous due diligence on the companies, but members still get to make their own decisions."
McDonald facilitated the original opening of the Portland chapter in 2008 and in concert with the efforts of Megrath and Jackson, has helped facilitate its strong growth. As the Portland entrepreneurial scene has heated up the last few years, McDonald believes there is even more room for additional growth of K4's membership there. "Portland is a hot market for some great companies and a great market for Keiretsu," said McDonald. "We are very focused on seeing the Portland chapter grow and believe that Matt can help us achieve that growth."
Burk is a long time entrepreneur and respected figure in the Portland business community. He is the founder and CEO of Fairway America and the Chief Investment Officer of Fairway America Fund VI, LLC. He is also a tenured member of the Portland chapter of Entrepreneurs Organization and has been actively involved on its Board for many years. "Matt is an outstanding addition to our Portland team," said McDonald. "We are very excited to be able to benefit from his leadership and network of people to help us both grow and add value to our membership."
About Fairway America
Fairway America, LLC is a long-time real estate lender, fund manager and boutique real estate finance advisory firm providing strategic business planning services nationwide to select private money lenders and real estate operators around the structure, architecture, and administration of proprietary 506 Regulation D funds. Fairway America Management Group is the manager of Fairway America Fund VI, LLC, making creative small balance real estate secured loans and investments nationwide.
About Keiretsu Forum
Keiretsu Forum does not invest in companies itself but rather is a facilitation service that has created a very structured environment where entrepreneurs enjoy a high quality and well-organized interaction with investor members who make their own investment decisions on an individual basis. Members of each chapter conduct their own due diligence and Keiretsu makes no representation, express or implied, as to the suitability of any particular investment.