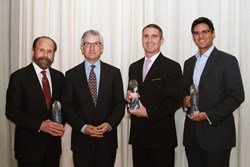 La Jolla, CA (PRWEB) January 16, 2014
Yesterday, Senator Jerry Hill (D-San Mateo) and Assembly Members Jeff Gorell (R-Camarillo) and Henry T. Perea (D-Fresno), were each honored by CHI-California Healthcare Institute for their thoughtful leadership in advancing biomedical science, biotechnology, pharmaceutical and medical device innovation in 2013. Hill, Gorell and Perea were respectively awarded the "2013 Life Sciences Champion" award by CHI President & CEO David L. Gollaher, Ph.D., at CHI's annual Back to Session reception in Sacramento. CHI is a nonprofit, public policy research organization, representing leading California academic institutions, biotechnology, medical device, diagnostics and pharmaceutical firms.
"Senator Jerry Hill, Assembly Member Jeff Gorell and Assembly Member Henry T. Perea have openly engaged California's biomedical and medical technology innovators, listening to our concerns and asking the tough questions that help lead to the right policy decisions, said David L. Gollaher, Ph.D., CHI's president and CEO. "As the continued growth of California's biomedical ecosystem is heavily reliant on sound public policy and fair regulations, we are pleased to present these hard-working members of the California State Legislature with these awards."
The Life Sciences Champion awards were attended by hundreds of leaders in the biotech, education, technology and pharmaceutical sectors. With a vast California ecosystem supporting the biotech community, CHI is proud to work closely with California's state legislators in Sacramento.
"Supporting medical innovations is the path that leads to a healthier population," said Senator Hill. "I appreciate this award recognizing my partnership with our state's biomedical community to increase access to affordable treatments."
"This past year I was pleased to work closely with CHI in developing coalitions for legislation that provide tax incentives for start-up medical technology companies," said Assembly Member Gorell. "I'm grateful to receive this award and I appreciate CHI's continued leadership on behalf of California's life sciences ecosystem."
"Thank you CHI for recognizing my work in support of the life sciences; it is an honor to be recognized," said Assembly Member Perea. "CHI and its members represent a sector that provides highly valuable jobs to California and beyond. It is through their commitment to research and development that patients receive access to life-saving products."