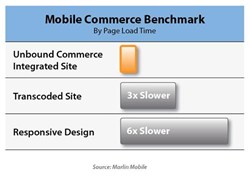 Our mobile business has boomed while working with Unbound Commerce. Mobile sales for the month of December topped $1 million.
Boston, MA (PRWEB) January 16, 2014
Unbound Commerce today announced that the company launched mobile commerce sites for more than 120 retailers in 2013, a record for the company. This growth further solidifies Unbounds position as the mobile commerce solution picked most-often by the top 2000 online retailers.
The rapid growth in 2013 builds upon the hundreds of mobile commerce sites already built and deployed by Unbound, including sites for well-known retail brands such as Rockport, Finish Line, MillerCoors, Adam & Eve, Shoe Carnival, and category leaders like Cavender's Boot City, 3Balls, JomaShop, ShopTheTrend, RugsUSA, and Sports Unlimited. In Q4 2013 alone, Unbound built and launched mobile commerce sites for over 30 retailers, including Patrick James, Westport Big & Tall, AZ Autobody, All Things Jeep, Fleming Outdoors, Bridal Boutique and CoffeeForLess.
Unbound delivers a true mobile-optimized experience, versus one merely derived from the main ecommerce site via screen-scraping/transcoding or "one site fits all" responsive techniques. E-retailers choose Unbound's approach as the best and most cost-effective way to treat mobile as a distinct and unique element of the omnichannel shopping experience they provide their customers. Third party Marlin Mobile ranked Unbound mobile site pageload times as up to 3X faster than transcoded sites and 6X faster than those built using responsive design.
In addition to launching 120+ new mobile commerce sites in 2013, Unbound worked with existing customers to continue to improve their mobile sites, resulting in some eye-popping results.

Auto supply retailer AutoGeek upgraded their site for the holidays and saw mobile orders jump 2300% over the previous year from Black Friday to Cyber Monday. "We were delighted with the enthusiasm our customers have for our mobile site," said Max McKee CEO & Founder of the Palm Beach Motoring Group. "The Unbound site has really delivered for us."
A site redesign for Jomashop, the leading seller of luxury watches at discount, led to sparkling holiday revenue numbers. "Our mobile business has boomed while working with Unbound Commerce. Mobile sales for the month of December topped $1 million," reported Osher Karnowsky, Director of E-commerce.
Billion dollar retailer Finish Line upgraded their Unbound Commerce mobile site in 2013, and saw mobile conversion rates double. "This is the fourth year we've partnered with Unbound to give our mobile customers what they want," reported Jimmy Montague, mobile lead at Finish Line. "Every year we've been able to add features and increase conversions."
Dedicated tablet sites were another area of growth for the company in 2013, as an increasing number of retailers now see this channel as distinct and are looking for dedicated, integrated "t-dot" sites, to convert surging tablet- traffic. A new trend is for retailers to build and launch dedicated tablet sites in tandem with their mobile sites. For example, men's fashion retailers Patrick James and Westport Big& Tall each recently launched dedicated tablet and mobile sites for Holiday 2013.
In-store mobile engagement is another area of innovation in 2014. During 2013, Unbound and Shoe Carnival worked together to build an in-store, interactive tablet kiosk– delivering an "endless aisle" capability for in-store customers. This project started with one kiosk and has now expanded the program to over two dozen retail locations. For 2014, Unbound is working on several roll-outs of its new Touch Commerce kiosk program to extend mobile commerce to the retail floor.
"As mobile commerce has taken off, it's become increasingly clear that a scraped or shrunken-down, resized version of an ecommerce site is a limitation, rather than a benefit," said Wilson Kerr VP of Business Development and Sales. "Mobile is now big enough to be "unhitched" from the ecommerce site, as its own unique channel, purpose-built from whole cloth to convert mobile sales, while still leveraging existing e-commerce backside operations. Unbounds approach future proofs the build, an important consideration as mobile traffic continues to skyrocket."
About Unbound Commerce
Unbound Commerce has completed an industry-leading number of mobile commerce site build and deployments. Unbound's integrated low IT approach means the work done for mobile commerce site builds can be leveraged to deliver tablet commerce, apps, or in-store kiosks. Unbound also delivers free marketing tools to help retailers and brands bridge online and offline consumer touch points, at point of sale. Unbound has built and deployed mobile sites for Rockport, Finish Line, MillerCoors, Shoe Carnival, Cavender's, Joma Shop, Sports Unlimited, Patrick James, Westport Big & Tall, and over 300 other retailers. For additional information, please visit http://www.UnboundCommerce.com.