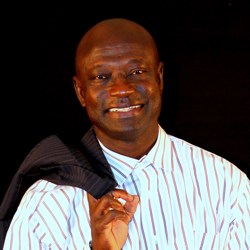 "Opportunities are there all the time," says Mensah, "they are simply cloaked by obstacles."
Seattle, WA. (PRWEB) January 16, 2014
Albert Mensah, CSP, will speak at the 2014 MLK Symposium at the University of Michigan in Ann Arbor on Monday, January 20. Mensah will speak about "Raising the Bar," from 1–3 p.m. at the Rackham Auditorium on the University of Michigan campus. The public is welcome.
Harry Belafonte, singer, actor, and activist will deliver the keynote address at 10 a.m., and Phyllis Meadows, Ph.D., takes the stage at 12 p.m. This is the University of Michigan's 28th Annual MLK Symposium and is titled "Power, Justice, Love: Heal the Divide."
Mensah's Convocation, "Raising the Bar," will relate his own inspirational success story. As a child in a small village in Ghana, West Africa, Albert experienced his first movie at the age of eight. When he noticed the Americans in the film all wore shoes—and he had never owned a pair of shoes—Albert resolved to travel to America to build a better life. He wrote more than 700 letters to colleges in the United States and eventually secured admission to Western Maryland College.
"Opportunities are there all the time," says Mensah, "they are simply cloaked by obstacles."
After graduating college, Mensah began a successful Fortune 500 sales career. Later he directed his love of soccer towards building a thriving sporting goods store. He next created his professional speaking business and earned the Certified Speaking Professional certification. Since then he has written three books: "Wake Up to Your Own Potential," "When the Drumbeat Changes, Dance A Different Dance," and "OK Means Opportunity Knocking." His speaking clients include Microsoft, Costco, Bank of America, John Deere Corporation, Wells Fargo Bank, Nordstrom, Boeing, and Starbucks.
Albert Mensah has been consulting, training, speaking, and writing about employee development and organizational change for more than a decade. "The Ambassador of Opportunity" delivers practical, applicable, and actionable tactics and strategies that help people move forward with inspiration and motivation.
Contact: Albert Mensah
Telephone: 206-679-6414
Email: albert(at)albertmensah(dot)com
Twitter: https://twitter.com/thealbertmensah
Facebook: https://www.facebook.com/albert.mensah1?ref=name
LinkedIn: http://www.linkedin.com/in/albertmensah
Web site: http://albertmensah.com/