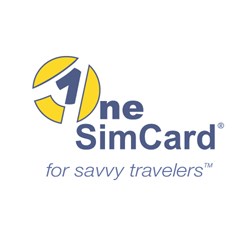 OneSimCard offers very low calling and mobile data rates in Russia for travelers to winter Olympics.
Boston, MA (PRWEB) January 16, 2014
OneSimCard, a leading global provider of international mobile roaming services for businesses and leisure travelers, today announced a special package deal for travelers going to the Olympic Games in Sochi, Russia.
The package includes a simple-to-use dual SIM quad-band mobile phone, international SIM card, universal international travel plug adapter and $10 of airtime credit for only $59.95.
OneSimCard offers very low calling and mobile data rates in Russia:

Incoming calls – No Cost
Outgoing calls to USA, Canada and within Russia - $0.49/min
Incoming SMS texts – No Cost
Outgoing SMS texts – $0.15 each
Internet Data – From $0.20/MB
In addition, OneSimCard offers a global concierge service at no additional cost that will help travelers with Russian language translation and other travel services. Travelers to Sochi can also take advantage of OneSimCard's Mobile Miles program where customers receive bonus points (miles) toward over 25 different loyalty programs such as American Airlines AAdvantage and Hilton HHonors for every minute they talk on the phone.
Since the OneSimCard international SIM card will never expire as long as it is used at least once every 2 years, travelers to the Sochi Games will be able to use the same phone and mobile service during their other international travels to save significantly on International Mobile roaming charges.
Additional information could be obtained at http://www.onesimcard.com/sochi-olympic-games/.
About OneSimCard
OneSimCard (onesimcard.com), a division of Belmont Telecom, Inc., is a leading provider of mobile service for international travelers offering low-cost voice, text and data service in over 200 countries. OneSimCard saves travelers 85% on international roaming charges compared to their regular domestic mobile carrier and has been widely acclaimed by mobile industry and travel experts, including those from The New York Times, Washington Post, Boston Globe and PC Magazine.