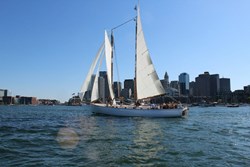 Boston, MA (PRWEB) January 16, 2014
After an amazing maiden season during the summer of 2013, schooner Adirondack III returns Memorial Day weekend with an expanded schedule and new sails that will no doubt continue to delight visitors and Boston residents alike. Classic Harbor Line offers a variety of sails that will appeal to anyone looking to the sun and sea, including Picnic Sails out to the Harbor Islands, Saturday morning Mimosa Sails, and after work Sunset Sail. Whether you are celebrating an engagement, a birthday, or just looking for new way to take in Boston – a relaxing and picturesque sail on schooner Adirondack III is the perfect choice! Pair it with dinner, a stroll on the waterfront or a post voyage cocktail. Truly a must for your 2014 calendar!
The Adirondack III is an 80ft. schooner, built in Albany by Scarano Boat Builders, modeled after the 1890s pilot schooners. Adirondack III's teak decks with brilliantly varnished mahogany rails, and trimmings, surround the guests, while 70 foot Douglas Fir masts, and just under 2,000 square feet of sails, stretch to the skies overhead.
Classic Harbor Line runs the Adirondack III out of Rowes Wharf in Boston from Memorial Day (May) to Columbus Day (October). Visit the website for schedules and additional information, including sail descriptions: http://www.boston-sailing.com.