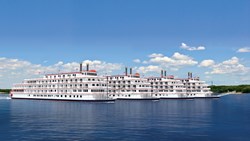 Guilford, CT (PRWEB) January 16, 2014
American Cruise Lines (http://www.americancruiselines.com), the largest U.S. cruise company, announced today that complimentary shore excursions will be offered on all Mississippi and Columbia River cruises aboard its two authentic paddlewheelers, Queen of the Mississippi and Queen of the West. The line will offer complimentary shore excursions in each port, valued at more than $300 per person. Additionally, for a limited time, a complimentary pre-night hotel stay will also be offered on bookings made throughout Wave Season. Complimentary tours on Mississippi River cruises include:
•Battle of Vicksburg Tour – Vicksburg, MS
Guests will tour the Vicksburg National Military Park and discover the site of one of the Civil War's most legendary battles –The Siege of Vicksburg.
•Oak Alley Plantation Tour – Oak Alley, LA
Guests will sip delicious Mint Juleps as they enjoy an educational tour by guides in period clothing, and a walk through the quarter mile canopy of 300 year old live oak trees.
•Mark Twain Boyhood Home & Museum – Hannibal, MO
Guests will enjoy a trolley tour of this historic town and discover the inspiration behind Mark Twain's writing, while reliving their favorite scenes from Tom Sawyer and Huckleberry Finn.
Complimentary tours on Columbia and Snake River cruises include:
•Mount St. Helens Tour – Rainier, WA
A scenic bus ride takes guests to the Mount St. Helens Johnston Ridge Observatory. The observatory sits on a bluff overlooking the crater and offers views of Mount St. Helens' lava dome, pumice plain and landslide deposit.
•Columbia Gorge Discover Center – The Dalles, OR
Guests enjoy a sprawling interactive museum with exhibits and collections of local cultural history. The exhibits focus on the volcanic upheaval and raging floods that created the Gorge, the unique horticulture and wildlife of the region, and eleven thousand years of history.
•Winery Tour – Richland, VA
Known as "The Heart of Washington Wine Country," the Tri-Cities region houses more than 160 wineries within a 50 mile radius. Sample award-winning wines and enjoy breathtaking views of beautiful vineyards on this narrated winery tour.
On each eight-day Columbia and Snake River and Mississippi River itinerary, guests enjoy views of a diverse landscape and extended visits to unique ports along the way. Onboard, they'll enjoy numerous and distinct amenities, including personalized service and the most spacious staterooms in the industry. They'll also experience American Cruise Lines' unique open-seating dining plan, which allows guests to enjoy meals in a single seating and at the time of their choice, while surrounded by panoramic views of the river. Enriching educational events and themed entertainment are offered daily and help paint a picture of what life on American rivers was like in days gone by.
About American Cruise Lines
American Cruise Lines, the largest U.S. cruise company, operates the newest fleet of riverboats and small cruise ships on more than 35 itineraries around the country. Long established and deeply experienced in cruise travel, American Cruise Lines has most recently received world-wide recognition as the first to revive paddlewheel river cruising in America. The line is known for working closely with guests and travel agents before, during, and after a cruise to create a highly personalized cruise experience. To learn more about American Cruise Lines, visit http://www.americancruiselines.com or call 800-814-6880. Find us on Facebook at http://www.facebook.com/americancruiselines or follow us on Twitter at http://www.twitter.com/american_cruise.