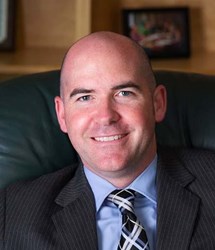 The staffing industry has unique challenges, and I hope to use my experience to help the ASA develop best practices for AtWork Group and other staffing agencies.
KNOXVILLE, TENN. (PRWEB) January 20, 2014
Jason Leverant, chief operating officer of AtWork Group, has been appointed vice chairman of the American Staffing Association's industrial section policy council for 2014. This council is comprised of member volunteers who advise the ASA's board of directors on sector-specific issues and design programs to meet the unique business challenges faced by those sectors of the staffing industry.
"It's an honor to be asked to serve as vice chairperson," said Leverant. "The staffing industry has unique challenges, and I hope to use my experience to help the ASA develop best practices for AtWork Group and other staffing agencies."
AtWork Group is a top U.S. multi-specialty staffing franchisor, providing staffing for personnel, medical, healthcare, and other services nationwide.
This is not Leverant's first time working closely with the ASA. As an expert on the effects of the Affordable Care Act (ACA) on the staffing industry, Leverant was instrumental in helping the association create the ASA Affordable Care Act Cost Calculator for Staffing. The ASA plans to appoint him to chairman in 2015, taking over the role from Todd Palmer of Diversified Industrial Staffing.
"An ASA survey last year found that U.S. staffing companies employ nearly three million temporary and contract workers per day, and the number continues to climb," said Leverant. "Thus, it's very important to help staffing and recruitment firms like AtWork Group to maintain high legal, ethical, and professional standards."
Workforce Magazine named AtWork Group to its Temporary Staffing Providers Hot List for 2013, and Entrepreneur Magazine named the franchisor No. 384 on its 2013 "Franchise 500" list.. The franchisor was also named to the Staffing Industry Analysts Largest U.S. Staffing Firms List for 2013 and the Franchise Times' Next 300 Franchise Systems.
About AtWork Group
AtWork Group is an award-winning and nationally-known franchisor of staffing services including @WORK Personnel Services, @WORK Medical Services, @WORK HelpingHands Services, and @WORK Search Group under the umbrella of the AtWork Group. The foundation for AtWork began in the 1980s, and today, AtWork has grown to be cited as one of Staffing Industry Report's top U.S. staffing firms. AtWork Group's remarkable growth is fueled by the vision of founders John and Glenda Hall: think ahead, create opportunity, give exceptional support to franchise offices, and always look for the better way, every day. For more information, visit http://www.atwork.com or call 800.383.0804.
About the American Staffing Association
The American Staffing Association is the voice of the U.S. staffing industry. ASA and its affiliated chapters advance the interests of staffing and recruiting firms of all sizes and across all sectors through legal and legislative advocacy, public relations, education, and the promotion of high standards of legal, ethical, and professional practices. ASA members provide the full range of employment and work force services and solutions, including temporary and contract staffing, recruiting and permanent placement, outplacement and outsourcing, training, and human resource consulting.
###