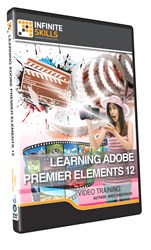 Learn Adobe Premiere Elements 12 at your own pace.
(PRWEB) January 22, 2014
Software training firm Infinite Skills Inc. this week introduced its "Learning Adobe Premiere Elements 12 Tutorial," an introductory course designed to help amateurs and home movie hobbyists maximize the capabilities of Adobe's consumer-level video editing software.
Adobe Premiere Elements 12 is the latest release of Adobe's video editor oriented toward home movie makers and hobbyists. The program offers a scaled-down feature set compared to the professional-level Premiere Pro at an affordable retail price, while still offering a rich set of features, including editing, publishing, organizing, and adding effects, that are useful for hobbyists.
Infinite Skills' Learning Adobe Premiere Elements 12 offers an in-depth guide to Premiere Elements' compliment of features, equipping beginning users with the ability to maximize all the program has to offer.
Learning Adobe Premiere Elements 12 Video Training - Tutorial
Course author Andy Anderson is a veteran trainer at Infinite Skills. An expert in the Adobe creative line of software, he is a career photographer, professor, and graphic designer, with decades of commercial and artistic publications to his credit. He has authored 17 best-selling books on graphics and design. His training focuses on the Adobe creative suite and other common systems like Apple's OS X and Microsoft Word.
Here, following an introduction and set-up guide, Anderson begins by walking students through setting and customizing preferences and project settings, providing an overview of the program's layout, as well as a selection of useful keyboard shortcuts.
From there, Anderson teaches all the phases of video editing with Premiere Elements, starting with media capturing, importing and organizing assets, and creating a project.
The course then focuses on the editing process, covering the basics of working with the video monitor and timeline, and moving into advanced topics like color correction, adding special effects, and working with audio tracks.
The course also covers additional features like working with Smart Trim, Premiere Elements' Instant Movie feature, and adding a DVD movie menu, before closing with a chapter on final production options.
"Adobe Premiere Elements is a great program for making home movies," Anderson says. "It provides an interface that lets you include all the elements you need for making a great movie—video footage, audio, stills, texts, and special effects."
"This course is about getting you ready for primetime. We'll cover all the stages of project development, from preferences and customization to aesthetics and efficiency."
Free demo videos and a full list of course contents can be found on the Learning Adobe Premiere Elements 12 training page of the Infinite Skills website:
http://www.infiniteskills.com/training/learning-adobe-premiere-elements-12.html
Infinite Skills offers its Learning Adobe Premiere Elements 12 Tutorial either as a DVD or a direct download from the company website at a retail price of $49.95. All titles and formats are compatible with Mac and Windows operating systems. Shipping is available around the globe. Additionally, Infinite Skills tutorials are supported by project files which correspond to examples in the videos, allowing users to work alongside experienced instructors right on their computer or iPad.
About Infinite Skills Inc.
A leader in the field of software training, Infinite Skills designs its courses on a task-oriented model, teaching complex skills by providing hands-on examples and guiding users as they carry out essential functions. Infinite Skills offers a wide range of software titles available as DVDs, digital downloads, and in iPad editions. Infinite Skills now offers a subscription service, providing access to all its training content for a monthly fee, keeping with company's aim of delivering professional training to customers anywhere they want to learn.