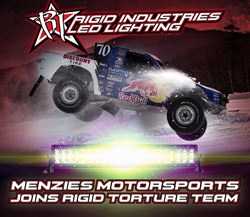 I've been a big fan of Rigid for a while...Their products are first class and they are very pro-active with their marketing...
Gilbert, AZ (PRWEB) January 16, 2014
Menzies Motorsports is the latest addition to the Rigid Industries Torture Team Athletes. The Torture Team includes some of the world's most successful racing teams, professional anglers, and individuals who have earned distinction in their field of endeavor. In the world of off-road racing, Menzies Motorsports has definitely done that. After only a few years of competition, the team has won several of the most significant desert races, a SCORE Trophy Truck Championship and multiple championships in Pro-4 and Pro-2 short course racing. It's no surprise that a team so dedicated to winning would want the most technologically advanced LED lighting system available.
"I've been a big fan of Rigid for a while," says Bryce Menzies, "Their products are first class and they are very pro-active with their marketing, something I like to see from my sponsors. I really enjoyed their Rigid Industries Torture Test campaign and look forward to working with them on some new campaigns and of course, putting them in the winner's circle."
The exclusive 3-year deal with Menzies Motorsports includes Rigid Industries branding on the team's race trucks, pre-runners and chase/support trucks. Championship winning driver Bryce Menzies and short course legend Ricky Johnson will display Rigid Industries logos on their driving suits while competing in the Lucas Oil Off Road Racing Series, (LOORRS) and SCORE International races. Bryce will be in the LOORRS Pro-2 class and SCORE International's premier Trophy Truck class. Ricky Johnson will be racing the Menzies Motorsports Pro-4 truck in the LOORRS short course series.
The 2014 season has already produced a win for the Menzies Motorsports Rigid Industries Torture Team drivers. At the inaugural Red Bull Frozen Rush in Newry, Maine on January 10th, eight of the fastest short course racers on the planet battled each other on a course that traversed the snow covered slopes of the Sun River Ski Resort.
The teammates were pitted against each other in their qualifying heat with Rick taking the win by only .2 seconds over Bryce. Ricky went to the final round where he took the overall victory. Bryce beat Rob MacCachren to finish in the third spot at the unique Red Bull event. Ricky and Bryce used all wheel drive, studded tires and their Rigid Industries LED lights out front.
The toughest conditions on Earth are no match for the superior lighting performance Rigid Industries provides. When you demand the best in optical technology and rugged durability there is nothing that compares to Rigid Industries LED lights. For more information on all their technically advanced lighting products go to RigidIndustries.com.
Source: Red Bull Content Pool
Photography By: Brian Nevins, Matt Mc Dermott & Garth Milan
About Rigid Industries
Thanks to its unparalleled patented Hybrid, Specter and new Hyperspot optics and its torture-tested housings, Rigid Industries® is a world leader in the forward projecting LED lighting industry. Rigid LED lighting products can be used in a plethora of applications across industries such as: agriculture, construction, emergency response, industrial, marine, military, mining, and off-road and power sports. Rigid Industries® is committed to providing innovative technologies and always guarantees a quality product which has been designed, engineered, and assembled in the USA.
For more information and a comprehensive list of products, visit http://www.rigidindustries.com or follow the company on Facebook, LinkedIn, and Twitter.