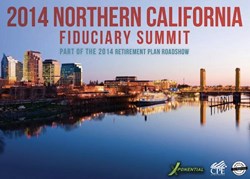 Managing a company retirement plan focuses on two concerns: managing fiduciary responsibility and providing a tool for your employees to retire.
Sacramento, CA (PRWEB) January 30, 2014
Coming to Del Paso Country Club in California's state capital, the 2014 Northern California Fiduciary Summit invites proactive retirement plan sponsors, human resources and finance executives, trustees and business owners in the greater Sacramento area to discuss and listen in on strategies for improving participant outcomes. Hosts, Genovese Burford & Brothers and Xponential Growth Solutions, have gathered local panels of experts and plan sponsor peers for an interactive and enlightening session.
Summit host Kevin Thelen of Genovese Burford & Brothers emphasizes, "Managing a company retirement plan focuses on two concerns: managing fiduciary responsibility and providing a tool for your employees to retire. Regulatory enforcement by the Department of Labor is rising and many fiduciaries are ill prepared for such an event; fortunately we have been able to assemble an expert panel to help in that preparation. Additionally, participants in general are not on track to maintain their standard of living in retirement. There are approaches to designing your company retirement plan to help your employees overcome these challenges – the plan sponsor panel will bring great insights into this area." Thelen will be leading discussions as the event's keynote speaker.
The local expert panel speakers will include: Marcel P. Weiland, Attorney at Law - Chang Ruthenberg & Long, Lisa McCargar, CPA & Senior Manager - Crowe Horwath LLP and Cheryl A. Mellow, Senior Vice President - Ames-Grenz Insurance Services, Inc. The plan sponsor panel will feature local executives sharing their perspective and insights for implementing strategies that set participants up for retirement success. Topics of discussion consist of: what every fiduciary need to know for 2014, financial wellness- improving participant outcomes, a regional and national economic update, and leveraging market highs to maximize vendor negotiations. Guests will be comprised of a diverse group of plan sponsors from the greater Sacramento area.
The 2014 Northern California Fiduciary Summit will be the 1st stop of the 2014 Retirement Plan Roadshow and will be held at the Del Paso Country Club on Feburary 19, 2014 from 11:00 AM to 2:30 PM (lunch will be served). The 2014 Northern California Fiduciary Summit is approved for 3 CPE/CPA Credits and 3 HRCI/SPHR/PHR/GPHR General Credits. Seating is limited and local plan sponsors will receive priority registration. Additional details and registration information can be found here.
About Genovese, Burford & Brothers
Genovese Burford & Brothers provides full-service consulting to employers looking for effective solutions to create and maintain a highly successful retirement plan. Their retirement plan management practice is comprised of dedicated specialists focused exclusively on delivering retirement plan consulting services to plan sponsors.
About Xponential Growth Solutions
Xponential Growth Solutions (XGS) unites 401(k), 403(b) and retirement plan sponsors with elite resources and exclusive connections. Through research, fiduciary summits, and industry expertise, they help the nation's retirement plan sponsors, fiduciaries, and trustees evaluate their plan and navigate the retirement plan industry. Working to help America reach their retirement goals one retirement plan at a time, XGS also founded the Retirement Plan Roadshow, a national series of fiduciary educational summits dedicated to human resources, finance and business professionals in charge of America's 401(k), 403(b), and retirement plans.