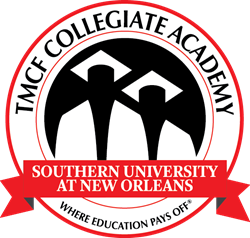 TMCF@SUNO's unique blended learning approach and environment--one that more closely resembles a college student union--will create a community of scholars unlike any other in the city.
New Orleans, LA (PRWEB) January 16, 2014
Connections Education, Thurgood Marshall College Fund (TMCF), and Southern University at New Orleans (SUNO) are pleased to announce that students in New Orleans, La., will have a new blended charter school option for the 2015-16 school year. TMCF Collegiate Academy @ SUNO (TMCF@SUNO) was approved by the Orleans Parish School Board (OPSB) in September 2013 and will be taking a planning year prior to opening in August 2015.
"We are pleased to welcome TMCF@SUNO into our portfolio of schools and fully support the founders' decision to devote the next 18 months to planning for the smoothest possible launch," said Kathleen Padian, Deputy Superintendent of Orleans Parish School Board. "We're confident that the school will provide a compelling option for many middle and high school students in Orleans Parish."
The Academy will deliver blended online and classroom instruction to students in a non-traditional setting on the SUNO campus—an innovative choice for students and families seeking a flexible, college preparatory, middle and high school option. TMCF@SUNO will open as a middle school serving grades 6-8 in the 2015-16 school year and will add one high school grade per year starting in 2017. The school will serve a maximum of 225 middle school students in the 2015-16 school year.
"The Academy will offer students a high-quality education, access to college level courses, and a technology-enhanced education that aligns to the needs of our global society—all without leaving New Orleans," said Chancellor of SUNO, Victor Ukpolo, Ph.D. Eligible Academy students will be invited to participate in SUNO's "Early Start" program where they may enroll in college courses while in high school with the intent of enrolling at SUNO upon completion of high school.
In addition, as the Academy's national non-profit partner, Thurgood Marshall College Fund will offer high-achieving Academy students the opportunity to receive scholarships to attend its public Historically Black College and University (HBCU) member-schools. Founded in 1987, TMCF is the only national organization to provide scholarships, programmatic and capacity building support to the 47 public HBCUs and to date has awarded more than $200 million in such assistance to its students and member-schools. TMCF@SUNO will offer a state-of-the-art physical campus where a dedicated in-person staff—including a principal, guidance counselor, personal trainer, and highly qualified Louisiana-certified teachers—will interact with students both online and on-site. Additionally, campus-based "Success Coaches" will help guide students through the school's comprehensive online curriculum which includes AP courses, foreign languages, core academics and more. Among the engaging electives offered will be Juilliard eLearning, online music courses developed exclusively with the famed conservatory. Students will be provided with a laptop and other technology tools; allowing them to work anywhere within the Academy as well as beyond, 24/7.
"There is a real divide in public education, especially in minority communities," said Johnny C. Taylor, Jr., president and CEO of TMCF. "We must make sure students are prepared for college with cutting-edge tools and able to perform in the ever-changing higher education environment. TMCF@SUNO will help students meet these goals."
Gloria Moultrie, Vice Chancellor for Community Outreach/University Advancement at SUNO, added: "We expect TMCF@SUNO students will demonstrate a passion for learning and a commitment to their education." Illustrating the connection between the new Academy and SUNO, she said SUNO's College of Education will place student teachers at the Academy. "Academy students will also be able to participate in other SUNO campus offerings, particularly our new forensic science and health information system programs."
"TMCF@SUNO's unique blended learning approach and environment--one that more closely resembles a college student union--will create a community of scholars unlike any other in the city," said Mickey Revenaugh, Executive Vice President of Connections Education.
TMCF@SUNO was approved by the Orleans Parish School Board and governed by a local Board of Directors. Its curriculum and other services are provided through contract by Connections Education, a leading provider of high-quality, highly accountable online and blended learning accredited by AdvancED.
"The members of the Board of Directors are excited to assist in bringing this 21st century school that is on the forefront of the changing educational landscape to the New Orleans community," said Hattie M. Broussard, Board Chair of TMCF@SUNO. "By combining innovative technology and state-certified teachers, the Academy is able to provide a flexible and creative learning environment for every student."
# # #
About Connections Education
Connections Education is a leading, fully-accredited provider of high-quality, highly accountable virtual and blended education solutions for students in grades K–12. Since 2001, the company's Connections Academy division has delivered individualized learning to students through virtual public schools and a private online academy. Beginning in 2011, the company also began partnering with charter schools, districts, and others to offer blended learning, a cutting-edge combination of face-to-face and online learning that provides students with a "greater than the sum of its parts" educational experience. In the 2013-14 school year, 26 Connections Academy virtual public schools and seven Nexus Academy blended public schools operate in 23 states, expecting to serve more than 50,000 students from across the U.S. Connections Education is committed to expanding quality education through technology and helping students achieve both academic and personal success. For more information, call 800–382–6010 or visit http://www.ConnectionsEducation.com. Connections Education is part of the global learning company Pearson (NYSE:PSO).
About Thurgood Marshall College Fund
Thurgood Marshall College Fund (TMCF) is named for the U.S. Supreme Court's first African-American Justice. Established in 1987, TMCF supports and represents nearly 300,000 students attending its 47 member-schools that include public Historically Black Colleges and Universities (HBCUs), medical schools and law schools. TMCF helps students with a clear intention and the motivation to succeed and acquire a high-quality college education at an affordable cost. Through its scholarships and programs, TMCF plays a key role in preparing the leaders of tomorrow. TMCF is a 501(c) (3) tax-exempt organization and for more information about TMCF and its initiatives, visit http://www.ThurgoodMarshallCollegeFund.org.
About Southern University at New Orleans
Southern University at New Orleans, founded in 1956, is a four-year public institution categorized as an SREB Four-Year 5 institution, a Carnegie Master's College and University I, and as a SACSCOC Level III institution. As an accredited liberal arts teaching institution and a member of the Southern University System, SUNO is known for its highly engaged faculty and personal academic support. The University offers a wide range of baccalaureate programs and is committed to graduate education through the master's degree, offering graduate programs to meet regional and statewide needs. For information, please visit the University's Web site at http://www.SUNO.edu.