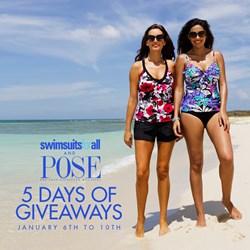 Keyport, NJ (PRWEB) January 16, 2014
swimsuitsforall, an online retailer for plus size women's swimwear, and POSE Magazine, a plus size fashion and lifestyle magazine, partnered up last week, from January 5th to the 10th, to promote a cross-platform giveaway on social media.
The giveaway event came just in time for cruise season, when customers around the country are eager to begin shopping for fashionable bathing suits as they plan to vacation in warmer locations.
A total of twenty-four lucky customers were given the chance to get a leg up on vacation swimwear shopping with a $25 voucher to swimsuitsforall, simply by following swimsuitsforall and POSE Magazine on Facebook, Twitter or Instagram. One lucky winner was even chosen to win the grand prize of $200 store credit to swimsuitsforall.com.
"I'm excited about this contest," said Tiffany (Tip) Jones Keaton, Editor in Chief of POSE Magazine, "because I know personally how the swimsuitsforall product can make you feel confident, secure, sexy, and free." The contest generated even more excitement on social media from plus size consumers, a clientele that often finds it hard to find affordable and fashionable plus size swimwear size 8 and up.
For more information about swimsuitsforall and their exciting social media campaigns and giveaways, visit their website at http://www.swimsuitsforall.com.
More about swimsuitsforall:
For over eight years swimsuitsforall has been providing women sizes 8 and up with high quality swimwear at competitive prices. We're on a mission to help women find the best swimsuit—one that fits, flatters, and best reflects personal style. We vow to replace swimwear shopping-dread with 100% satisfaction. How? By creating a seamless experience with supportive customer service and hassle-free returns and exchanges. It's our Design Fit Guarantee! At swimsuitsforall we believe that some of the most memorable times in our loves are spent wearing a swimsuit—by helping make those experiences better, happier, and accessible to anyone and everyone, we are making the world a better place to swim in.