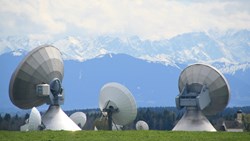 "EMC's strategic focus and investments made this year enabled the company to become the fastest growing provider in the industry." - Abel Avellan, CEO, EMC
Miami, FL (PRWEB) January 16, 2014
Emerging Markets Communications (EMC), a global satellite (VSAT) and terrestrial managed services provider announced today that it has placed first in the World Teleport Association's (WTA) "Fast Twenty" category of the annual Top Operator Rankings. Each year WTA publishes the findings of complied data from private and public teleport operators around the world.
Participating teleport-operating companies were ranked based on year-over-year growth. Emerging Markets Communications had a 76% increase in revenue from 2012 to 2013, setting the bar for the fastest growing VSAT services provider in the world.
"We are excited to be named the world's fastest growing teleport-operator," said Abel Avellan, CEO, Emerging Markets Communications. "EMC's strategic focus and investments made this year enabled the company to become the fastest growing provider in the industry. Our expanded service locations and capabilities positions the company to fulfill growing customer demands in niche markets in 2014."
EMC was also ranked fourth in The Independent Top Twenty, a list of companies with a core business of owning and operating a satellite fleet or terrestrial network, by revenue.
About EMC
Emerging Markets Communications, Inc. (EMC) is a global satellite and terrestrial communications company specializing in delivering mission-critical, network services for the global energy industry, maritime, mobile network operators, carriers, governments, NGOs and worldwide enterprises with locations in the most remote and/or challenging areas of the world. As a proven industry leader, EMC enables customers the agility, scalability and efficiency designed to facilitate growth for their global operations. The company operates in 150 countries, with 34 global field support centers and wholly-owned infrastructure of teleports and terrestrial pops in the United States, Europe and Africa. EMC is financially backed by ABRY Partners; a firm specialized in funding the communications industry with $36 billion of completed transactions.