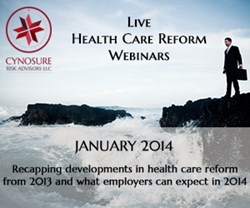 Chicago, Illinois (PRWEB) January 16, 2014
Uncertainty and confusion still abounds when it comes to employers grappling with the financial implications of the Patient Protection and Affordable Care Act, or Obamacare. Cynosure Risk Advisors LLC (CRA, http://www.cynosurerisk.com), a national business consulting firm specializing in risk management, insurance coverage and health care reform counseling, is pleased to announce its new and innovative live webinar series. The first series begins in January 2014 and focuses on a topic of particular interest to companies large and small – the health care reform forecast for 2014.
The January webinars explore the complexities of Obamacare and related employee benefits options from the perspectives of employers of all sizes. On January 22nd, CRA will host "Steering Small Businesses Through the Sea of Current Health-Related Employee Benefits Options." This webinar will explore the current health-related employee benefits options available to small employers, including Obamacare, and the tax credits and other incentives associated with those options. On January 23rd, CRA will host "Navigating the Murky Waters of Obamacare – What Large Employers Can Expect in 2014" which will explore the provisions of Obamacare that are of most concern to large employers and what new developments to expect in 2014 that may impact their bottom lines.
CRA takes pride in creating innovative and compelling webinars that are not typically dense PowerPoint presentations with monotonous voice over narrations. CRA utilizes the latest technology to enhance their participants' webinar experience from start to finish. By using a high quality webinar interface, CRA webinars feature live, high definition video of the presenters which creates the feel of an in-person, interactive meeting with CRA's experienced counselors. Following the presentation CRA encourages participation in its robust question and answer session, allowing participants to get the answers to their most pressing concerns.
CRA's Founder and CEO, Tracy A. Campbell, adds, "At CRA, our fresh approach to the traditional webinar model provides executives with the high-level understanding of health care reform they need in order to make the most appropriate health care decisions for their company and their employees. We do not simply present the subject matter and leave it to participants to consider the implications for their businesses. We design our webinars from the perspective of busy executives making tough decisions and take great care to craft informative and practical webinars."
Registration for the January 2014 live webinar series is open at http://www.cynosurerisk.com/webinars-events. In addition, on-demand webinars will be made available for purchase on CRA's website, making it convenient for participants to explore the subject matter of their choice on their schedule.
About CRA:
CRA is a Chicago-based professional services company that specializes in helping corporate executives control costs and operate more efficiently by advocating a non-traditional spin on risk and insurance counseling that promotes aggressive and pro-active management of a client's operational and financial risks. CRA also counsels clients on the quickly-evolving landscape of health care reform and how to protect their bottom lines while providing quality health care options to their employees. CRA is led by Founder and CEO Tracy A. Campbell, J.D. For more information on future webinars and CRA's other services please visit http://www.cynosurerisk.com.