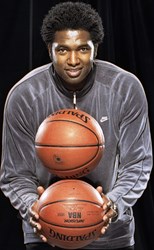 Kevin's talks have inspired students to "make a difference on their campuses and in their communities."
Barbourville, KY (PRWEB) January 15, 2014
To launch the spring semester, Union College will welcome as its convocation speaker the founder of an educational mentoring program that recently gained the support of Beyonce Knowles-Carter.
Kevin Singleton, who graduated with an accounting degree from Union College in 1987, is founder and CEO of Elevate New York, established in 2009 as a nonprofit organization based in the Bronx. Through this program, he has consistently produced graduation rates above 90 percent in Title 1 schools, where the free and reduced lunch population also exceeds 90 percent.
In October, Elevate New York announced on its website that Knowles-Carter will use the platform of Chime for Change—a global organization dedicated to the empowerment of girls and women—to raise funds for Singleton's nonprofit.
Aside from his work with Elevate New York, Singleton is also a noted motivational speaker. In a ceremony to officially open Union's spring semester, Singleton will serve as keynote speaker to an audience of students, faculty and staff, as well as local high school students. The program is Thursday Jan. 23 at 9:30 a.m. in Robsion Arena. The event is free and open to the public.
Singleton will be on campus Wednesday Jan. 22 to meet with coaches, students and other special guests at 9 p.m.
At Union College, Singleton played basketball on a full scholarship and earned academic honors. Following graduation, he played professional basketball in Europe and then used that experience, coupled with his musical and speaking talents, to deliver inspirational messages in a creative way.
For more than 25 years, Singleton has addressed more than 3 million youth in 20 different countries. His talks have inspired "students to make a difference on their campuses and in their communities," according to his website.
He achieves this in a unique way.
A talented vocalist, Singleton has managed to combine his musical talents with basketball and motivational speaking to produce a presentation that holds "students' attention and challenges them to make the right choices today, that will impact the rest of their lives," according to his website.
He has been keynote speaker for conferences conducted by many national and regional organizations, including Future Business Leaders of America, Distributive Educational Clubs of America, National Honor Society, Mothers Against Drunk Driving and Students Against Drunk Driving.
His most recent visit to Union College was during a speaking engagement in 2011.
For more information, contact the Office of College Communications at 606-546-1610.