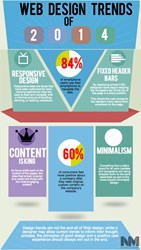 Tucson, AZ (PRWEB) January 16, 2014
As is true of most creatively based industries, trends are constantly changing and evolving. The same goes for web design, and Nuanced Media selected some recent trends in web design that they anticipate becoming important elements in the design process for years to come.
Many of these are elements a person experiences on the web on a daily basis, but may not be aware of. This includes responsive design, with which a website can be easily viewed and navigated through on any number of devices. With navigation in mind, fixed header bars are also an emerging trend. These allow a user to navigate from any point on the page instead of having to scroll all the way back to the top in order to find another page.
In terms of website content, less is more these days. Minimalism, clean simple designs, and eye-catching graphics are prominent characteristics in new and newly redesigned websites. This approach also supports the new focus on crafting engaging and easy-to-follow content. A site should focus on its core competency and eliminate distracting or filer content.
Many of these emerging trends seem simple, and often go unnoticed, but add an immense amount of utility and ease to the user experience. Because of their simplicity and functionality, they probably will not be going anywhere any time soon. Explore the Nuanced Media blog to learn more about each of these design elements and their role in the web design and user experience processes.
About Nuanced Media
Nuanced Media is a digital marketing and graphic design firm. The company specializes in strategic, multilayer marketing campaigns and efficiently crafted, user-friendly websites. Based in Tucson, the company has a variety of clients throughout Arizona, California, and Texas. For more information, please view Nuanced Media.