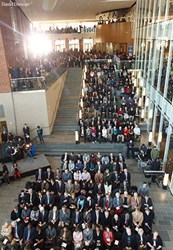 Lynchburg, VA (PRWEB) January 15, 2014
Liberty University celebrated the grand opening of its new Jerry Falwell Library on Jan. 15 before more than 400 invited guests — including local and regional leaders, local college administrators, members of Liberty's Board of Trustees, supporters, and members of the media. The Wednesday morning event was broadcast live to more than 10,000 residential students in the Vines Center for Convocation and to countless other online students and supporters via an Internet stream.
Following the service, the facility was officially opened with a ribbon-cutting by President Jerry Falwell, Jr., Provost and Senior Vice President for Academic Affairs Ronald Godwin, Lynchburg (Va.) Mayor Michael Gillette, Library Dean Marcy Pride, and Liberty Co-founder Dr. Elmer Towns.
The $50 million, 170,000-square-foot library is the university's largest investment in any one campus structure to date. It is the first major campus facility to bear the name of Liberty's founder, Dr. Jerry Falwell. With cutting-edge, interactive features, the building is designed to embody his vision of a world-class Christian university that trains Champions for Christ in all disciplines.
As a testament to the library's innovative connectivity, the attendees in both campus locations joined together in worship — those in the Vines Center led by Liberty's Campus Band and those in the library by LU Praise — while being simultaneously broadcast to online viewers.
President Falwell thanked a number of individuals who co-labored with his father to make Liberty what it is today. He also recognized those who contributed to the planning, design, construction, and innovation of the library as well as the groups and civic leaders who support the university. Falwell said Carl Merat, acquisitions librarian and former library dean, was instrumental in the planning and vision of the library.
Falwell shared his appreciation for those who contributed to the library campaign.
As President Falwell spoke, he recalled his father's vision and celebrated his faith and endurance in seeing it to fruition.
"Today, we are not here to honor my father for what he accomplished in the early days. We are here to honor him for his … unwavering commitment to the dream and vision for Liberty University through the almost four decades of trials and tribulations that ensued after Liberty was founded," he said. "We are gathered here to honor him for his undying faith, his perseverance, his determination, his tenacity in the face of seemingly insurmountable odds, and his upbeat attitude and love for people that never waned in spite of all the turmoil and challenges that he was facing personally on an almost daily basis."
Gillette spoke on behalf of the city, expressing its support for the university and thanking Liberty for its many contributions to the community.
He challenged the students to take advantage of the tremendous opportunities afforded them in the new learning space.
"What you are witnessing today with the dedication of this building is something very special and something very important to the character of the university that you attend," Gillette said. "Liberty has made a significant commitment in creating a state-of-the-art library, a repository of learning and knowledge that will stand for decades and perhaps even for centuries."
Towns and Pride each gave a prayer of dedication for the library, asking the Lord to fill it with His presence and continue to bless and empower Liberty's students to excel in all disciplines and ultimately have a positive influence on the world.
Godwin shared personal stories from the decades he labored alongside Dr. Falwell to create what is now the world's largest Christian university. He recalled how Dr. Falwell would often stop and count the amazing victories the Lord provided for the university and challenged the Liberty family to carry on that spirit of joy and gratitude.
Pride, who has nearly 20 years of professional experience in library work, said she and her staff are looking forward to playing an important role in the academic experience for Liberty's students.
"The library has a number of kinds of spaces to accommodate a number of learning styles and needs," she said. "We have almost 40 group study rooms. … An active learning classroom will allow students and the professors to interact in ways that they haven't been able to in the past. They will be able to communicate with students at a distance and peers around the world. So this is a very exciting part of the new library and we're looking forward to seeing what (students) will make of it."
Pride noted that library staff visited some of the country's most innovative libraries to gain inspiration and ensure Liberty's was second-to-none.
Highlights of the Jerry Falwell Library include a 24-by-11-foot media wall equipped with Microsoft Kinect movement recognition technology, Perceptive Pixel tables (oversized tablets), a technology commons with most of the 160 computers located throughout the building, and interactive information kiosks. The library also features an Automated Storage and Retrieval System, a robotic book delivery system with the capacity for 420,000 items.
Architectural elements include a four-story book tower, rooftop terrace, lakeside balconies, a floating staircase, and nearly 40 group study rooms with fully writable walls.
Designed with more than 80,000 square feet of interior and exterior glass, the library features plenty of natural light and breathtaking views.
A two-story food court — the Tinney Café — features Pizza Hut Express, Starbucks, Tsunami Sushi, and Brioche Dorée (French bistro cuisine).
When asked how the Jerry Falwell Library compares to other libraries she has worked with and visited, Pride humbly said, "there is no comparison."
For more information visit http://www.Liberty.edu/Library or follow LibertyULibrary on Twitter and Facebook.
About Liberty University
Liberty University, founded in 1971, is the largest private, nonprofit university in the nation, the largest university in Virginia, and the largest Christian university in the world. More than 100,000 students attend classes on its 7,000-acre residential campus and study in its thriving online education program.