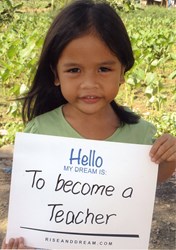 Our kids need encouragement to dream big.
Kansas City, KS (PRWEB) January 16, 2014
Nearly 100 children at Operation Breakthrough will celebrate the birthday of Dr. Martin Luther King, Jr. with glitter glue and colorful crayons as they create their own artwork depicting dreams for themselves and their futures.
Volunteers with Unbound, an international nonprofit based in Kansas City, Kan., will help the kids at Operation Breakthrough, a child care facility in Kansas City, Mo., create their own Dream Cards as part of partnership between the two organizations.
"Unbound works with 300,000 children and families in developing countries to help parents and kids fulfill their dreams for a successful future," said Unbound director of U.S. Outreach Laney Haake.
"We are honored to work with kids in our own neighborhood to help them achieve their goals in life, too. It makes it even more special to spend time with them in celebration of Dr. King's dream."
Haake will present a check to Operation Breakthrough for more than $15,000. Unbound is in the second year of a partnership to support the kids in one classroom with early education expenses and social workers to provide guidance for parents on issues such as housing, job searches and the everyday stress of raising children.
Friday, Jan. 17, 2014
3:30 p.m.
Operation Breakthrough
3039 Troost Ave., Kansas City, MO 64109
"We are delighted with the financial support and the volunteer efforts of our friends who work in the international area," said Sister Berta Sailor, Operation Breakthrough founder.
"Our kids need encouragement to dream big."
Unbound is the largest nonprofit in Kansas with more than $110 million in annual revenue. The organization works directly with children, families and the elderly in 21 developing countries as they confront the challenges of poverty and work toward a better life.
Unbound distributes direct aid as quickly and efficiently as possible to people who need it. More than 93 percent of all the money Unbound spends goes to program support.
#