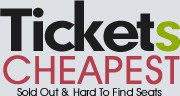 New programming at the Tickets-Cheapest.com site allows users to find some great deals. The system evaluates most events with tickets available and then concentrates on the popular or hottest ones.
Denver, CO (PRWEB) January 16, 2014
Looking for something to do without paying too much? New programming at the Tickets-Cheapest.com site allows users to find some great deals. The system evaluates most events with tickets available and then concentrates on the popular or hottest ones. At a second stage the program searches for the cheapest ticket prices, making special notes on events that look like they are at relative discounts compared to other tickets, or just plain old cheap based on low prices.
Special deals get displayed with a bold graphic on tickets costing $50 or less to make them easier to find. The tickets may be sorted by date, city, event type or name. Of course, larger cities like New York City, Los Angeles or Chicago offer the most cheap deals, but most geographic areas contain some special events Tickets-Cheapest keeps on its radar.
Although these tickets sell fast and are subject to prior sale, find some recent results below.
Cheap Tickets Denver
Examples of other very cheap sports tickets for Denver Nuggets and Colorado Avalanche
Avalanche v Sabres February 1 $7
Avalanche v Maple Leafs January 16 $10
Avalanche v Devils January 21 $7
Nuggets v Cavaliers January 17 $5
Nuggets v Pacers January 25 $10
Examples of other very cheap concert tickets
Paul Simon And Sting February 11 $62
Miley Cyrus March 4 $42
Imagine Dragons March 15 $52
Cher May 28 $56
Other Denver events on the list include popular games and concerts that may not be cheap on an absolute basis, but the prices for seats at Tickets-Cheapest.com usually come in lower than other resale sites, including being cheaper than Stubhub. Items in this category include the Broncos vs. Patriots AFC Conference Finals NFL Game and the George Strait Denver Concert.
Given the very low prices to begin with at Tickets-Cheapest.com, these may represent the best prices attainable at any site for quite some time. Tickets-Cheapest.com operates in the ticket resale market, similar to sites sports and concert fans may be familiar with. Often Tickets-Cheapest.com sells the exact same seats as other resale sites. In an exact seat price comparison, Tickets-Cheapest.com proved its rights to the name by beating 25 out of 25 competitors for lowest priced tickets when examining the true final cost including fees and delivery. When looking for tickets to sold out concerts or for premium tickets like floor seats, Tickets-Cheapest.com can prove to be the best bet. Try a comparison including the ticket price as well as services fees; like always, this week's tests proved Tickets-Cheapest.com emerged the lowest once again. Try Tickets-Cheapest.com for hard to get tickets like MLB, NFL, NBA, NHL and all major concert events throughout the United States and Canada.
About Financial Firebird and Tickets Cheapest
The site to buy Cheapest Tickets online and its sister sites, including the site to buy Broadway tickets, all geared for the consumers looking for low prices, are affiliated with the Financial Firebird Corporation Travel Group, and stand among the top sites sought by travelers and people who enjoy concerts, pro sports and theater performances. Financial Firebird Corporation, established in 2000 and a proud BBB member, provides unbiased consumer information particularly involving personal unsecured debt or mortgages, software and marketing services. These sites for consumers to buy tickets online operate in the resale market and maintain no relationship with the venues or performers. The resale ticket market allows consumers access to popular events once the box office has sold out or to buy premium seats when the venue no longer offers any inventory. Within the group of these secondary market ticket services the Financial Firebird owned ticket sites offer lower prices than competitors. Find the site at Tickets-Cheapest.com.