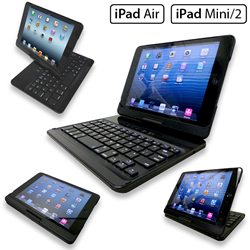 The iPad Flip Turn Case is the most versatile keyboard case on the market. It provides excellent protection all around the iPad, and offers an unmatched branding opportunity using the customer's full color logo artwork.
Chicago, IL (PRWEB) January 16, 2014
It's a tablet! It's a laptop! It's the iGear Flip Turn Case! Flip it, turn it, and make the iPad whatever you want it to be. The iPad Flip Turn case is a hard shell case that offers full body protection, a built-in Bluetooth keyboard, and acrobatic tricks to set up the iPad in three modes - laptop, movie watching, and tablet.
iGear Unlimited's Flip Turn Case for the iPad Mini 2 has received a review on macquebec.com. The case was tested and reviewed by Louis-Philip Allard. Allard was impressed with the flip/turn feature and appreciated that the keyboard is a true full keyboard, making it easier to write longer text, as well as the "small, convenient size". While there were one or two cons, overall the case received a rave review. In fact, the few cons were more to do with the iOS than the hardware itself. Overall, the Flip Turn Case was praised as more convenient than Apple SmartCover and an optimal solution for turning the iPad Mini into its own laptop. The original article (en français) can be seen here: http://macquebec.com/test-ipadmini-turn-flip-case/.
The flip turn mechanism is arguably one of the most versatile on the market. It performs acrobatic tricks on the iPad, allowing it to be used as a tablet, a laptop, or a movie player. Simply opening the case sets the iPad up in laptop mode, tilting the screen at a comfortable angle for typing. When flipped 180 degrees, the case becomes a stand, turning the iPad into a movie player. Folding the case completely flat causes the case to disappear, and the iPad becomes a normal tablet. The tension closure system also keeps the iPad closed when not in use, with an auto wake/sleep smart cover design to conserve battery.
Like all of iGear's products, the Flip Turn comes with amazing customization options. Using full-color direct UV printing, each case can be customized with the customer's logo artwork. The company is a G7 Qualified Master Printer, ensuring brilliant colors, sharp details, and the highest standards of color accuracy and consistency.
The iPad Flip Turn Case is available from iGearUnlimited.com. Shipping is expected to start around 1/6/2014. Pre-orders are welcome and orders will be filled on a first-come-first-serve basis.
About iGearUnlimited.com
iGearUnlimited.com is powered by Sunrise Digital, an Inc. 5000 company established in 1988 and employs the most advanced equipment and technology, such as G7-certified HP Indigo and UV flatbed presses, and digital die-cutting, to create best-in-class products. A privately-owned enterprise, the company is based in Chicago and sells products worldwide.