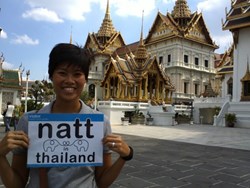 San Francisco, Calif. (PRWEB) January 16, 2014
With a new year comes new trends to watch for, and Viator.com – the leading resource for researching and booking tours and activities worldwide – sees continued growth in private, custom and exclusive tours. The team analyzed traveler reviews and bookings made through the Viator Private Guide Network to compile the 2014 Viator Travel Awards: Top 10 Private Guides. From the highest rated guide to the most popular newcomer, these experts represent some of the best private tour guides in some of the hottest travel destinations for 2014 – guaranteed to enhance any trip or adventure.
Below are Viator's top private tour guides to book with for 2014:
Asia – growing in popularity and best explored with a qualified guide at your side, these Asian destinations and the guides who specialize in them will be hot commodities in 2014.

Wallop 'Joke' Kittiwititkun (Bangkok, Thailand) – "Most Popular Guide." Wallop's expansive knowledge of Chinese history as well as his great sense of humor made him Viator's most booked tour guide of 2013.
Vivie Pan (Beijing, China) – "Top Rated Guide." For two years in a row, Vivie has been Viator's top rated private guide, pulling in five star ratings and glowing reviews for her ability to create custom tours that exceed expectations.
Hiroe Nakayama (Osaka, Japan) – "Top Newcomer." Hiroe's outgoing personality, deep knowledge of Japan, and willingness to design tours around travelers' interests and budgets landed this new guide at the top of the charts.
Zach Hatta (Kuala Lumpur, Malaysia) – "Top Shore Excursion." Designed for travelers with only a day in Kuala Lumpur, Zach's seven-hour tour of the city's must-see sites helps travelers maximize limited time in the city.
Natt Opasanon (Bangkok, Thailand) – "Most Attentive Guide." When she's not going out of her way to help travelers plan their trips (and sending more messages to clients than any other guide), Natt leads custom tours that help visitors understand the region's culture and history.
Ali Akram (Agra, New Delhi, India) – "Most Popular Multi-Day Guide." Ali's outgoing personality flexibility and easygoing nature makes him an easy traveling companion on customized, multi-day tours that explore India's art, history, temples, famous sites and culinary delights.
Rob and Kang (Seoul, South Korea) – "Most Creative Private Tour." This "dynamic duo of Korean tourism" leads a "Discovering Gangnam Style" tour that explores the music, entertainment and historic sites of the Gangman District, the intersection of old and new Seoul.
North and South America – from the history of DC to the thrills of Quito, the Americas provide fascinating experiences and top-rated expert guides.

Maricar Donato (Washington, DC, USA) – "Top Viator Contributor." Maricar's helpful blog posts, destination updates and photos as well as unique custom tours around DC's top attractions and special events have earned her Viator's top contributor award.
Cristian Umaquinga (Quito, Ecuador) – "Top Outdoor Adventures Guide." Cristian's passion for nature and 11 years of hiking, paragliding and taking thrill-seeking travelers on adventures from the Amazon to the coast have earned him Viator's top outdoor adventure guide spot.
Europe – it's no surprise that Rome is host to the top selling Viator private guide, with so much history and culture that is brought to life by an expert local with a knack for sharing his passion.

Mario Bernardi (Rome, Italy) – "Top Selling Guide." A background in art, a love of all things Italian (especially museums and ancient buildings), and an outgoing personality resulted in Mario earning the most revenue of any Viator guide last year.
Viator's Private Guide Network is the largest online network of qualified local guides, including nearly 9,000 experts in more than 1,000 destinations around the world. Destinations covered by Viator's private guide network include major cities like London, New York, Paris and Tokyo as well as more off-the-beaten-path cities where a guides' knowledge, connections and language-skills can be critical like Kota Kinabalu, Belgrade and Baku. The network offers travelers access to professional tour guides based on their preferences and budget, where they can also read reviews, view licenses and accreditations, and communicate directly with guides in advance of their trip. Viator's private tour guides are also a great alternative for cruise ship passengers looking to bypass cookie-cutter shore excursions offered by cruise lines and opt instead to create customized tours and activities while in port.
Travelers can read more about these top tour guides on the Viator blog. For more travel ideas as well as the latest deals, promotions, contests and news, like Viator on Facebook (ViatorTours) and follow Viator on Twitter (ViatorTravel).
About Viator
Viator is the leading global tours and activities provider for travelers, delivering online and mobile access to thousands of curated trip activities including tours, attractions, shore excursions and private guides, in more than 1,500 destinations worldwide. In-house travel experts work with trusted local operators to ensure the quality and value of every experience, all backed by Viator's 24/7 customer service and global low-price guarantee. With more than 500,000 verified reviews plus exclusive videos and insider travel tips, Viator has everything a traveler needs to find and book the best things to do worldwide. In addition to the flagship site – Viator.com – travelers can book in advance or in-destination via the Viator Tours and Activities App, as well as local-language sites for European, Latin American and Asian travelers. Viator also provides tours and activities to more than 3,000 affiliate partners including some of the world's top airlines, hotels and online travel agencies. Founded in 1995, Viator is a privately held company headquartered in San Francisco with regional offices in Sydney, London and Las Vegas. Viator – travel with an insider.