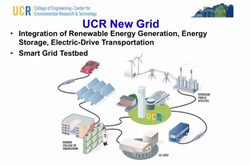 By the end of this year, we're hoping to have all the solar carports in place. The battery systems are going in this fall. We're hoping for a big turn on at the start of 2014!
Riverside, CA (PRWEB) January 20, 2014
Professor Matt Barth directs 80 scientists and five research groups as the head of UC Riverside's Center for Environmental Research and Technology (CE-CERT.) His team is preparing to break ground this fall on a project they're calling "The New Grid," integrating photovoltaics, energy storage, and a local utility for electric transportation. Roughly two-thirds of the extensive parking lot at Bourns Electronics will be outfitted with PV panels that will double as carports. Barth says they will be able to generate nearly half a megawatt. Bourns, SolarMax, (a PV installation company) and the Riverside Transit Agency (RTA) are participating in the project. UCR's CE-CERT facilities are located on the Bourns property a few miles from the UCR campus. "What's really unique about this," Barth says, "is that it will serve as a test bed." He says they will be able to develop new algorithms and strategies focusing on when to use and store the energy produced by the solar panels.
Along with Gordon Bourns and the RTA, other participants include the South Coast Air Quality Management District, and, a significant investor, Winston Chung. Chung will supply the lithium batteries needed to make energy distribution property from the New Grid feasible. The project coincides with a report from the Reuters wire service published in July stating," California's storage push comes as renewables move toward a mandated one-third of the state's electricity supply by 2020. The proposal has fired up a technology race that has already attracted venture capitalists Peter Thiel and Vinod Khosla, large-scale battery makers such as LG Chem, and establishment forces like General Electric Co and Microsoft Corp founder Bill Gates."
Responding to the article, Barth says that batteries will play a crucial role because, "The main purpose for this AQMD program is to see how we can use for it for electric transportation. Typically, people aren't going to sit there and charge their vehicles during the day because they are using them for work and errands. It's usually at night and that means having storage capability available." He hopes it will be applicable to larger scale areas. "The idea," he says, "is that Southern California will be able to have this type of system so that we can take better advantage of solar energy and support electric transportation."
At the CE-CERT test bed location, the New Grid will include four level-two EV chargers capable of charging light to moderate passenger vehicles, and a level-three charging station for a trolley serving the UC campus and surrounding locations. The city of Riverside already has about 14 EV charging stations, Barth says. "The idea is to monitor the use of these different systems, look at the patterns of what people are doing, and from that learn where we can put other (EV charging) stations." He says the system is unique in the way that it focuses on matching the supply and distribution component with actual usage. Barth says the test bed will benefit utility companies because smart grids are necessary in reducing the pressure on aging infrastructure, alleviating the need for new power lines. "The utility companies realize they have to do some sort of storage in order to take care of their infrastructure. By the end of this year we're hoping to have all the solar carports in place. The battery systems are going in this fall. We're hoping for a big turn on at the start of 2014."