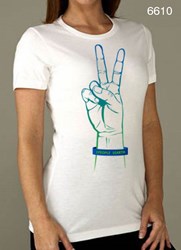 We must learn to live together as brothers or perish together as fools.Martin Luther King
(PRWEB) January 17, 2014
By purchasing a PEACE T-Shirt, 10% profits will be donated to keeping the dream alive. Let freedom ring, choose nonviolence.
To some it is a day of service, to others its about remembrance and to many it is about education.
Celebrate Martin Luther King Jr. Day, make it matter and pay it forward.
Three teenage girls from Minnesota started 1P1E to help spread the message of Peace. For the month of January, every T-Shirt purchased 10% will go to the King Center.
http://www.1people1earth.com