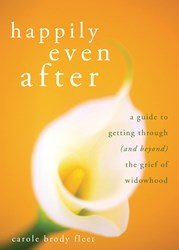 Filled with compassionate understanding, practical guidance and honest reassurance that a meaningful life awaits, Happily Even After is a worthy companion for your journey. — Judy Ford, author of Every Day Love: The Delicate Art of Caring for Each Other
(PRWEB) January 17, 2014
Carole Brody Fleet, author of Happily Even After: A Guide to Getting Through (and Beyond) the Grief of Widowhood offers sound advice for widows and widowers to make 2014 a year of healing and recovery on the Huffington Post. Carole suggested the top ten essential new year resolutions for people who have lost their partners. The resolutions range from spending less time with energy-draining people, and realizing that getting through grief alone isn't a sign of strength. Carole previously penned tips for grieving people whose friends and family "forget" about their loss.
What People are Saying about Happily Even After:
"I like this book because it has spunk and because it is practical and not preachy. Happily Even After offers a strong list of referrals and itself is a powerful guide to navigating a tough course."
—Linda Hawes Clever, MD, author of The Fatigue Prescription
"Filled with compassionate understanding, practical guidance and honest reassurance that a meaningful life awaits, Happily Even After is a worthy companion for your journey."
—Judy Ford, author of Every Day Love: The Delicate Art of Caring for Each Other
Carole Brody Fleet is the author of Happily Even After: A Guide to Getting Through (and Beyond) the Grief of Widowhood. Happily Even After includes answers to thousands of actual letters to the Widows Wear Stilettos website, and is written in Q&A form for easy reference. From child rearing and finances to issues of intimacy, it also addresses some of the most difficult and heartbreaking issues that many widows face; such as receiving a call or personal visit breaking the news about a husband's death from his mistress; or how to deal with widowhood and grief when a marriage is deteriorating or in the midst of divorce; and the technically unmarried widow, or "widow of the heart"—anyone who has lost the person with whom they expected to spend the rest of their lives. Happily Even After is also available in audio.