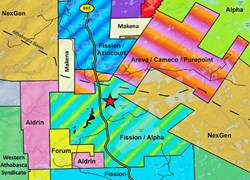 Vancouver, B.C. (PRWEB) January 16, 2014
If your company has the opportunity to acquire claims bordering a rich ore deposit, common sense dictates that you should take it. Which is exactly what Makena Resources Inc. did. MKN acquired a group of uranium claims in the world-class Athabasca Basin of Saskatchewan known as the "Patterson Claims."
The Athabasca Basis contains the world's highest grade uranium deposits and has recently produced one of the most successful Uranium discoveries in the country. The Patterson Lake South (PLS) Prospect of Alpha Minerals Inc. and Fission Energy Corp. has been one of the highest grade uranium discoveries ever and subsequently fueled a hugely profitable stock market run for investors and massive staking frenzy for exploration companies. Makena's acquisition consists of three claim blocks totaling 6,687 hectares (16,524 acres) in the vicinity of PLS.
The Fission/Alpha joint venture exploration program announced extremely impressive assay results: The main zone of mineralization returned an interval of 9.08% U3O8 over 54.5m, including a higher grade core of 21.76% U3O8 over 21.5m. This puts it on a level with the best holes within the Athabasca Basin district. Several other historic clusters of anomalous Uranium concentrations have also been found nearby. Alpha and Fission have now completed their merger, potentially allowing for the PLS discovery to be acquired by a larger uranium player. This may create additional significant interest in the smaller players like Makena.
Makena is an exploration-stage company with a market cap of only approximately $2 million, which places it in the junior mining category. But that junior status stands to significantly benefit investors when it comes to the Paterson claims. "We have the smallest current market capitalization of any company directly bordering the PLS," previously stated company president Negar Adam,. In other words, tremendous appreciating potential with positive results on the property.
Going forward, the market appears to be more receptive now than it has been for quite some time for a mining junior on the move. As Anglo-Canadian CEO Len Harris noted, "I think the market has bottomed out, and there is a lot more interest now." Uranium prices, in particular, are poised to rise: After undergoing a correction over the last several years, it looks like that trend is on the verge of a major reversal, with increases in M&A activity and corporate financings over the past few months. The Russian Highly Enriched Uranium (HEU) program also ended in December, which means that about 24 million pounds will come off the market, and Cameco-the world's largest publicly-traded uranium producer-is expanding production to meet projected increases in global demand.
Makena added some serious Athabasca Basin fire power to the company recently, by adding Dr. Karl Schimann to the company. Dr. Schimann was the head geologist for the discovery of the Cigar Lake Uranium Mine, which is the largest undeveloped high-grade uranium deposit in the world, owned primarily by Cameco and Areva.
Makena has just commenced an airborne survey over the property, with results expected back shortly. Makena investors are anticipating some exciting news.
Uranium, however, isn't the only potential gold mine for Makena investors; the company also plans to develop the Clone Gold Prospect in Stewart, BC, which has yielded encouraging drill results with grades of 12.80 m (42ft) of 44.75g/t achieved.
With all of this going on, Makena is well positioned to experience significant growth in both the short and long term.
For more information please visit http://www.makenaresourcesinc.com.
Legal Disclaimer/Disclosure:
A fee has been paid for the production and distribution of this Report. This document is not and should not be construed as an offer to sell or the solicitation of an offer to purchase or subscribe for any investment. No information in this article should be construed as individualized investment advice. A licensed financial advisor should be consulted prior to making any investment decision. Financial Press makes no guarantee, representation or warranty and accepts no responsibility or liability as to its accuracy or completeness. Expressions of opinion are those of the author's only and are subject to change without notice. Financial Press assumes no warranty, liability or guarantee for the current relevance, correctness or completeness of any information provided within this article and will not be held liable for the consequence of reliance upon any opinion or statement contained herein or any omission. Furthermore, we assume no liability for any direct or indirect loss or damage or, in particular, for lost profit, which you may incur as a result of the use and existence of the information, provided within this article.