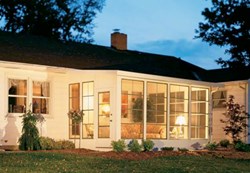 Aluminum framing technology saves time, which translates to lower costs.
MIAMI, FL (PRWEB) January 16, 2014
Lake Worth, Fla., homeowners who chose aluminum sunroom additions to expand their homes in 2013 discovered two attributes of that building technology, said Venetian President Chris Noe: The additions went up faster than the homeowners expected and at a lower cost than they would have paid for space built with a more traditional construction method.
"Lake Worth, like many South Florida communities, has diverse housing, including many smaller cottages built for people who migrated into the city in the 1950s and 1960s," Noe said. "For those homes, and even for newer, bigger Lake Worth homes, aluminum sunrooms – the top choice among our Lake Worth customers last year – are a sensible solution for adding living space."
Venetian builds not only aluminum Florida rooms, but also aluminum-framed patio roofs, screen patio covers and screen swimming pool domes. In addition to building in West Palm Beach, Venetian serves Miami-Dade and Broward County, and the Keys in Monroe County.
"Aluminum framing technology saves time, which translates to lower costs," Noe said. "Much of the work on an aluminum sun room, patio enclosure or pool screen is done in our fabrication plant, with final assembly taking place on the building lot. That means less inconvenience for the family who is awaiting much-needed space. And because of regulations under the Building Code, inspections for aluminum structures are fewer and faster than with traditional construction methods."
Custom design, which Venetian applies to every project, helps homeowners get an addition that suits their tastes, meets their lifestyle needs, fits their budget and meets or exceeds code, Noe said. Its designers are experienced at making projects work on even small lots.
"The best sunroom is the one that works for the individual buyer, regardless of the type of home that's being expanded," Noe said. "With custom design, we can make the addition complement the home, from proportions and shape to the style of the windows and doors."
Venetian offers detailed, free estimates on solariums, patio screens and pool enclosures. It also offers such home enhancements as retractable canvas awnings, aluminum pergolas and aluminum privacy lattice. Free in-home consultations include curbside aces to the Venetian mobile showroom.
For more information call 866-596-2427.