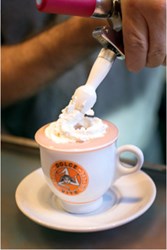 Chocolatto® is the new sensation from Italy, a thick dark "spoonable" Italian hot chocolate.
New York, New York (PRWEB) January 16, 2014
Chocolatto®, the world's best thick Italian hot chocolate, was featured favorably in the New York Times Dining & Wine section by renowned food critic Florence Fabricant on Wednesday, January 15, 2014 catapulting Chocolatto® into the highest eschelon food circle of New York City.
Chocolatto® is the new sensation from Italy, a thick dark "spoonable" Italian hot chocolate. The texture is so thick many first time tasters compare Chocolatto® to a hot mousse or pudding. However, the Italians have been drinking this delicacy for centuries. The history dates back to the European royals when chocolate was consumed hot and in a liquid form, and considered an elite luxury due to the scarcity and price.
Fabricant describes the process of preparing Chocolatto® with the steamer wand on an espresso machine. Alternatively, Chocolatto® can be prepared on the stove top with a saucepan, but requires continuous stirring till boiling. Chocolatto® is a bittersweet dark chocolate with "restrained" sweetness, appealing to both dessert lovers and savory lovers.
Additionally Chocolatto® is a non-GMO chocolate, and can be made vegan with soy or nut milk, even water. Ingredients have no preservatives, and no artificial colors or flavors, leaving the taster only with a pleasant lingering pure cacao taste.
Other notable Chocolatto® tasters are the new NYC Mayor de Blasio & wife Chirlane McCray, NYC Rockette, and Chef Dale Talde from Top Chef.
Read Full Article on New York Times site: nytimes.com/2014/01/15/dining/sea-salts-spiked-with-chile-italian-hot-chocolate-and-more.html?ref=dining&_r=0.
Dolce Vite Chocolatto®, Stay Forever Young.
About Dolce Vite® LLC
Dolce Vite® is based in Brooklyn, NY and founded by Christina Summers on the principles of the clean-food diet. "Americans are demanding quality food, and Chocolatto® is the World's Best Thick Dark Italian Hot Chocolate."
Find out more at dolceviteforeveryoung.com and facebook.com/DrinkDolceVite and twitter.com/DrinkDolceVite and youtube.com/DolceViteNYC.
Chocolatto® Thick Creamy Dark Italian Hot Chocolate Recipes can be found at dolceviteforeveryoung.com/pages/chocolatto-recipes.
Watch "Chocolatto® is Back!" music video on our website or youtube.com/watch?v=1xSx2XzTXdQ.
Watch "Sexy Spoon Man Chocolatto® Orange!" youtu.be/E6hx4K1Pogc.
Restaurants and cafés interested in delighting their customers with Chocolatto®, the newest Italian sensation please email sales(at)dolceviteforeveryoung(dot)com or call 917-50-DOLCE (36523).