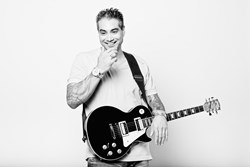 The goal is the make everyone a musician.
Fort Lauderdale, FL (PRWEB) February 03, 2014
Looking for an opportunity to learn guitar, but need an option that fits a busy schedule? Miami guitar teacher Dyce Kimura offers both of these things to aspiring guitarists. Kimura's unique and effective Skype guitar lessons give students the chance to learn guitar from the comfort of their home. And because the lessons are not location dependent, Kimura is able to teach people all over the country. For a limited time, new students can receive 5% off their first Skype lesson.
This limited time offer is a great chance to start the year off by learning a new talent or perfecting an existing one. "I love helping people find their creative side. Expression through music is beneficial to both mind and body," says Kimura. Kimura offers lessons for all ages and talent levels. He has taught students as young as five years old and continues to teach people well into adulthood. He is also experienced in a number of different musical genres and styles.
Dyce Kimura is lauded for his versatile teaching styles and motivational abilities. This is especially true when it comes to his Skype guitar lessons. This interesting lesson format allows for Kimura to accept students from all across the world. All students need is a high-speed internet connection, microphone, and webcam. The Skype software can then be downloaded for free and used on any computer or tablet.
Fort Lauderdale guitar teacher Dyce Kimura is currently offering four different packages of Skype lessons: Bronze, Silver, Gold, and Platinum. Each comes with a different number of lessons and touches on a various price range. Lesson packages range from one to 15 lessons; each session is 50 minutes long. Skype guitar lessons are highly customizable and cater to the specific needs and wants of the student involved.
Kimura hopes the 5% off offer will allow new students to explore what he offers. For those already with a background in guitar, Kimura can use the lesson to evaluate current abilities and talent levels. For those with no experience, he can come to understand what it is the student wants to learn and tailor future lessons to those needs. If students find they enjoy his teaching style and format, they can easily schedule future lessons.
To take advantage of this 5% off offer, sign up for lessons and mention this article to receive the discount on the first Skype lesson.
Dyce Kimura is a guitar teacher, accomplished musician, and exceptional motivator. He offers lessons in a variety of different formats, including video, Skype, and in-person. Kimura has expertise in acoustic guitar, electric guitar, bass, and other musical instruments.
Contact: 786-457-3687