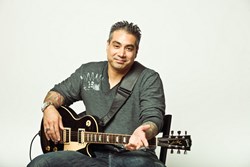 The goal is to turn everyone into a musician.
Fort Lauderdale, FL (PRWEB) February 05, 2014
Always wanted to learn guitar, but found the hassle of searching for a good instructor too much to handle? Now may be the opportunity to capitalize on that desire. Fort Lauderdale guitar teacher Dyce Kimura is offering new students 10-percent off their first Skype lesson through his recently redesigned website. New students can also purchase a beginner package for only $12.99, giving them access to a vault of ten educational videos for learning to play the guitar. The 10-percent discount does not apply to the beginner vault package.
Dyce Kimura offers a variety of different lesson formats for all levels of talent, from those at the very beginning to more advanced students. All of these levels are accessible through Skype lessons. The Skype guitar lessons, for which the 10-percent discount applies, is a unique yet interactive way to learn guitar. This format allows Kimura to accept students from around the globe, regardless of location. It takes the hassle out of travel and allows the student to learn from the comfort of their home. All students need, in addition to a guitar, is a webcam, microphone, high-speed internet connection, and Skype software. The Skype software is a free download available for Mac, PC, and most tablets.
In addition to his beginner package, Dyce Kimura's Skype lessons can be purchased in one of four different packages. The packages are referred to as Bronze, Silver, Gold, and Platinum, and range from one to 15 lessons. Lessons are usually offered in 50-minute blocks.
Miami guitar teacher Dyce Kimura is particularly proud of the devoted team that has worked so hard on his new website. The website was just released this year and has been redesigned to make accessing Skype lessons, as well as pre-recorded lesson vaults, more intuitive. "Teaching guitar is my passion," says Kimura. "I'm ready to help anyone who wants to add music to their life. My dedicated web team has made this goal so much more attainable through their hard work on my website. The new changes will make it even easier for me to share my love of music with individuals of all ages."
The beginner video vault is an ideal way for new students to experience Dyce Kimura's teaching style and decide if Skype lessons would be the best fit for them. For students who do well with those introductory lessons, more advanced instruction can be made available through Skype. Higher level lessons may include a number of different topics, such as music theory, chord progressions, tablatures, scales, and even songwriting and ear training. One of Kimura's favorite things to teach is the blues. His blues influences include artists such as Eric Clapton, Stevie Ray Vaughan, and Jimi Hendrix.
To take advantage of this 10-percent off offer, sign up for Skype guitar lessons on the website and mention this article.
Dyce Kimura is an experienced guitarist with a passion for teaching others. He is excellent at teaching in an easy-to-understand way that motivates and pushes people to become better. Kimura offers lessons in acoustic guitar, electric guitar, bass guitar, and other instruments. His lesson formats include video, Skype, and in-person.
Contact: 786-457-3687