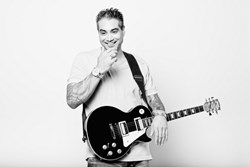 Miami, FL (PRWEB) February 11, 2014
For those looking to learn guitar in 2014, a new offer from Miami guitar teacher Dyce Kimura could provide the right amount of incentive. He is offering new students 20% off their first Skype lesson this year. Lessons from the comfort of home have never been easier.
As a musician of more than 28 years, Kimura has experience in just about every facet of playing the guitar. For a number of years, he has been offering lessons in a variety of different formats, including in-person, on video, and via Skype. The Skype lesson format is a popular one because of the flexibility and convenience it offers his students. Students are able to learn from a first-class teacher while remaining in their own home. Kimura enjoys it because it gives him the chance to mingle with other cultures and teach anyone in the world, regardless of geographical boundaries. "My greatest happiness comes from seeing a student light up when the next goal has been reached. Helping people discover the joy of music, no matter where they live, is my passion," says Kimura.
For Skype lessons, students simply need a guitar, computer with a webcam and microphone, a high-speed internet connection, and Skype software. Most computers now come with integrated webcams and microphones and Skype is a free download. Students then login for their designated 50-minute time block and are able to learn from Kimura as if he were in their living room. It's convenient and also cuts down on expenses.
Fort Lauderdale guitar teacher Dyce Kimura offers Skype guitar lessons in a number of different sets, consisting of the Bronze Package, Silver Package, Gold Package, and Platinum Package. The number of lessons in each package range from one to 15 and can be scheduled around the student's availability.
Dyce Kimura is able to teach all ages and levels of experience. He teaches children as young as five years old, as well as teenagers and adults of varying ages. His students are a mixture of first-time guitarists and experienced musicians. He uses the first lesson to assess his student's abilities and can then tailor-make the remaining lessons to their musical desires and goals. Lesson topics include chords, chord progressions, scales, ear training, learning sheet music, reading tabs, and even writing music.
To take advantage of Dyce Kimura's 20% off offer, students should sign up for Skype guitar lessons and mention this offer.
Dyce Kimura is an experienced Miami guitar teacher, musician, and motivator. He enjoys the chance to share his talents with his students and has experience teaching acoustic guitar, electric guitar, bass guitar, and other instruments. Dyce Kimura is based out of Florida and enjoys teaching guitar, writing music, and playing the blues.
Contact: 786-457-3687