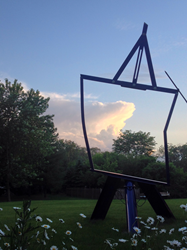 Next thing I know, sparks are flying, I'm quoting Dr. Seuss, and my wife began to question her decision!
Chicago, Illinois (PRWEB) June 17, 2014
The Everest Easel sculpture was unveiled to the public this month by artist and entrepreneur, Russell Riendeau. The sculpture will also appear September 24th at the world's largest public-juried art exhibition Artprize Exhibition in Grand Rapids, Michigan. Towering over 15 feet high and 7 feet wide, giant bolts hold it together. Utilizing recycled steel beams, pipes, tubular steel and powder-coated a twilight blue.
The Grand Rapids Children Museum will host the sculpture during all of the Artprize Exhibition.
The sculpture was created in-part to celebrate the 60th year anniversary of Sir Edmund Hillary and Tensing Norgay's historical first summit of Mt. Everest. The whimsical, Dr. Seuss-inspired design also symbolizes the importance of setting personal goals and visualizing one's future. The snow-capped peak and a precariously teetering, paint brush atop the frame, are subtle, yet curious features.
"The Everest Easel is a fine example of creativity and craftsmanship. I love when art comes outside to play, exhibited for the world to see," says Michael Kalish, acclaimed artist and sculptor from Los Angeles, California.
Currently for sale, the Everest Easel will be of value and interest for public and private park installations. Along iconic cityscapes, natural sceneries, tourist attractions, music venues, theme parks, corporate parks, city plazas, resorts, galleries, marinas or lakefront properties will generate publicity for those destinations. Any location that invites and encourage photo opportunities and group interaction with the sculpture.
Inspiration for the creation came in a few forms. "I wake-up one day with quirky easel picture in my head--like a Dr. Seuss drawing. Next thing I knew, sparks were flying, I'm quoting Dr. Seuss, and my wife began to question her decision!" says Riendeau. " I love to create interactive art that stimulates conversation and brings people together. In our overly serious world, Everest makes me smile and if others smile, too, then I am grateful."
Portions of the sale will also go to charity. Russ Riendeau's additional art and sculptures are represented by Re Invent Gallery, in Lake Forest, Illinois.
The tallest easels in the world are not "portable." They are anchored into concrete pilings are located in Kansas and India, standing at 80 feet and 56 feet, respectively.
Dr. Russ Riendeau, is also the active senior partner of an executive search practice, East Wing Group, Inc. He speaks and writes on the creative process for use in business and peak performance.
Images and video on Youtube or http://www.russriendeau.com. Interested parties regarding purchase, installations, leasing, or sponsorship, please call 847-363-9789. Or Kristin Mikrut, ReInvent Gallery at 224-544-5961.