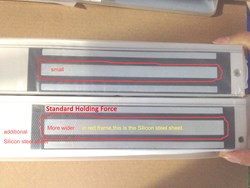 (PRWEB) January 18, 2014
Today, SWAccessControl, a well-known magnetic door lock manufacturer from Shenzhen China, is proud to announce its new magnetic locks, which come with the best holding force in the industry.
According to the CEO of SWAccessControl.com, a magnetic lock (or maglock) is a locking device that includes an electromagnet and an armature plate. Each of the magnetic door locks from this company is a well engineered and highly crafted lock. The company checks and re-checks the ready-made door lock products before shipment.
"We're excited to introduce our new magnetic door locks to the global customers. These new products have a range of activation strength, from 100lbs to 1200lbs.," says, the CEO of the company. "We are offering great discounts on our new products, and we hope to expand our international market through such a promotion."
Thomas, a magnetic lock distributor from Australia, said, "I love everything about SWAccessControl (including the wholesale prices, ha ha!). Their magnetic locks cost less than conventional light bulbs to operate. Perfect for many families on a budget. Thank you!"
About SWAccessControl.com
SWAccessControl.com is a leading access control system manufacturer and supplier from Shenzhen, China. The company aims to provide the best quality products at reasonable prices for its clients around the world. Its products include fingerprint access control systems, RFID access control systems, proximity card readers, magnetic locks, electric bolts, access control power supplies and more. For more details of the company and its products, please visit: http://www.swaccesscontrol.com/?content/product/category/8/index.html