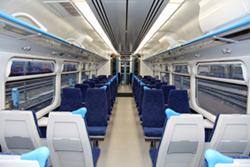 (PRWEB UK) 18 January 2014
Passengers could have been excused for thinking they were boarding a brand new train on the Great Northern route today.
The first of 40 upgraded class 365 First Capital Connect trains has entered service. Over the next two years, as more are transformed, passengers on the Great Northern route will be travelling in better, brighter and more modern and comfortable carriages giving them better value for money.
This train is the first to have been given a new look on the inside and out with fresh seat upholstery, new flooring, refurbished finishes and external livery designed to be neutral to save the public purse money when the franchise takes on a new name in September 2014. It has also been through a major engineering overhaul to maintain its excellent levels of reliability.
Other trains in the fleet will be fitted with enhanced features for people with disabilities and mobility impairments from summer 2014 which will later be retrofitted to earlier trains that have already been refreshed. These features will include a new fully automated passenger information system with audio and visual announcements
David Statham, First Capital Connect Managing Director, said: "The upgraded train looks and feels like a new train and I am delighted our passengers can now enjoy a more comfortable and modern travel environment reaching several exciting destinations between London King's Cross and Cambridge, Peterborough, and King's Lynn.
"This major upgrade provides better, brighter, new look trains, and will soon include enhanced accessibility features and improved on-board information.
"Since we took over this franchise we have added over 12,500 extra seats at the busiest times of the day on the Great Northern route through new trains and longer services. Now we're giving people even more of what they want - better trains to travel in."
Andy Course, Chief Operating Officer of Eversholt Rail, said: "We are all delighted to deliver the first refreshed Class 365 back to First Capital Connect and their passengers. Investing in the Class 365 fleet, and all of our rolling stock, demonstrates our long term and continued commitment to enhancing our assets."
Francis Paonessa, President, Rolling Stock & Services, Bombardier UK said: "Bombardier is pleased to be delivering the upgraded and modernised 365 units, providing increased comfort, reliability and accessibility for passengers travelling on the Great Northern route. Our team in Ilford have done an excellent job in delivering a quality product including a significant transformation of the passengers' environment, just 9 weeks after contract signature on November 7th."
This new train will give passengers better value for money together with the current January ticket sale where off-peak tickets are discounted by 10% when bought online from firstcapitalconnect.co.uk/tickets-and-fares/off-peak-tickets/january-sale/.
ends
For pictures, click here: https://drive.google.com/folderview?id=0B1oujwXPy9eINE1VeVhYbVlKaW8&usp=sharing
Notes to editors:
The work to upgrade the fleet, which carries passengers on FCC's Great Northern Route, is undertaken at Bombardier's Ilford site in Essex.
The first trains will feature new livery, new seat covers, new floor covers, new internal paint, both of which will ensure it meets regulations for people with restricted mobility.
From spring 2014 they will additionally feature the following to bring them in line with the latest disability regulations:

Two wheelchair bays installed
New external push buttons
New vestibule grab handles
A new wheelchair-accessible toilet in each 4-carriage unit
A new fully automated passenger information system with audio and visual announcements
Call for aid installed at wheelchair and toilet areas
Eversholt Rail awarded Bombardier Transportation a contract in excess of £30 million to undertake the enhancement and heavy maintenance of its fleet of Class 365 trains which are leased to FCC.
The Class 365 fleet carries many of the 86,000 passengers travelling daily on the Great Northern Route between London Kings Cross and Peterborough, Cambridge and King's Lynn.
There are 40 4-carriage Class 365 trains in the First Capital Connect fleet. They were built by ABB at York from 1994 to 1995.
The trains operate services out of King's Cross to Peterborough, Cambridge and on to King's Lynn.
The new livery is a neutral grey, designed to be ready to apply a new brand when the new Thameslink, Southern and Great Northern franchise begins in September 2014. It was felt that to reapply the First Capital Connect livery just nine months before the end of its franchise (the name will change irrespective of who wins the next franchise) would be a waste of public money.
About First Capital Connect
First Capital Connect (FCC) operates trains from London to Bedford, Brighton, Wimbledon and Sutton on the Thameslink route and Peterborough, Cambridge and King's Lynn on the Great Northern route.
Approximately 180,000 people travel with FCC every weekday – 95,000 on the Thameslink route and 85,000 on the Great Northern route.
Eversholt Rail Group
Eversholt Rail Group owns approximately one third of the UK's stock of passenger trains – some 3,500 vehicles - and more than 1,000 freight wagons and locomotives. Over the past two decades, it has invested more than £2bn in rolling stock and today is a supplier to many the UK's leading Train Operating Companies. Eversholt Rail Group is wholly owned by Eversholt Investment Group, which is owned by a consortium consisting of investment funds managed by 3i Infrastructure plc, a Jersey-incorporated, closed-ended investment company, Morgan Stanley Infrastructure Partners, a leading infrastructure investment platform, and STAR Capital Partners, an independent investment fund manager.
Further information can be obtained on http://www.eversholtrail.co.uk and http://www.eversholtrail-innovations.co.uk