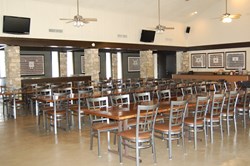 Austin, TX (PRWEB) January 16, 2014
Affordable Seating, a leading commercial seating manufacturer, has helped Zeta Beta Tau Fraternity of University of Texas in Austin by supplying them with quality restaurant furniture for their newly renovated chapter dining room.
Zeta Beta Tau fraternity is one of the oldest and largest national fraternities and has over 90 chapter locations and 140,000 brothers. Zeta Beta Tau was founded in 1898 as the nation's first Jewish fraternity, although it is no longer sectarian. The University of Texas chapter in Austin is one of the largest fraternities on campus.
ZBT consistently has one of the top three fraternity GPA's on campus, clinching the number one fraternity GPA for Spring 2013.They pride themselves on maintaining a highly diverse chapter in all study areas including specialized programs such as Pre-med, Pre-law, Plan II, McCombs School of Business (Honors-BHP), Engineering, Communications, and Liberal Arts. Zeta Beta Tau's credo is: intellectual awareness, social responsibility, integrity and brotherly love and the fraternity encourages these values among its brothers.
The chapter is involved in philanthropy work. This year they raised money for the Livestrong cancer research foundation and they recently hosted a concert that benefited Dell Children's Hospital. The fraternity also does philanthropy for the local Jewish community and participates in events with Jewish student organizations.
The ZBT house is the only fraternity on campus with a solar heated swimming pool and one of the few fraternities with a regulation basketball court. Many University of Texas basketball players can be seen playing on the chapter's court. The chapter dining room seats 50 people. The fraternity is currently holding Spring rush for 2014 to recruit new members.
The President of ZBT, Austin turned to Affordable Seating because of their reputation for quality commercial furniture at competitive prices. They ordered Affordable Seating's elegant Window Back Metal Chairs in silver frame with buckskin padded vinyl seats. "The attractive metal chairs were a great fit for the fraternity which needed durable dining room furniture", remarked David, salesperson for Affordable Seating.
The Window Back Metal Chairs are currently on sale for only $31 from Affordable Seating, and the matching bar stools currently sell for $49.90. The frame is available in black, copper vein, silver vein, gold vein or gold. Customers have the choice of a solid wood seat or padded seat using American made option is a padded seat. The seat is upholstered using American made foam and vinyl or fabric and can also be custom made. "The Window Back Metal Chairs are a popular choice for casual restaurants and bistros," said David." The metal frames and solid wood seats are very durable, yet the chair has a sophisticated, elegant design".
To view Affordable Seating's full selection of restaurant chairs, bar stools, booths, tables and patio furniture visit http://www.affordableseating.net or call a customer service representative at (888) 495-8884.
Zeta Beta Tau Fraternity, University of Texas Chapter is located at 710 W 28th St. in Austin, TX. For more information visit http://www.texaszbt.com/. They can be reached at (512) 464-8355.