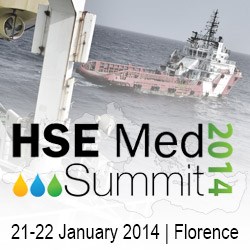 It's an IRN Summit!
(PRWEB UK) 16 January 2014
International and national oil companies will be part of the speaker faculty and the senior level delegation of the Summit to address the matters of health, safety and environment in the Mediterranean oil and gas industry. The Algerian Sonatrach, Shell International, Italian Edison, Libyan NOC, Tunisian Serept and STEG, French GDF Suez and Libyan Suncor Energy will be part of the Summit's delegation.
Governmental Officials such as the Cypriot Minister of Agriculture, Natural Resources and Environment, the Croatian Deputy Minister of Economy, the President of the Algerian Hydrocarbon Regulatory Authority, the Head of the QHSE Department as well as the Head of Strategic Planning of the Lebanese Petroleum Administration, and the European Commission Policy Officer for Employment, Social Affairs and Inclusion, Unit: Health, Safety and Hygiene at Work will be giving policy updates.
Experts working on the EU project; NEREIDS from the Cardiff University and the Technological Institute of Crete as well as the Advisor to the President of Cyprus from the Cypriot University of Technology, and researcher from the French Institute for Sustainable
Development and International Relations will be speaking about their HSE studies for the Mediterranean.
The HSE Med 2014 Summit will be sponsored by the leading HSE provider companies; APSYS, MediLink International and HSE Risk Solutions who will be giving expert advice on how to ensure the safety of the Mediterranean. The World Energy Council, the Italian Unione Petrolifera, the French Pole Mer Bretagne, the Spanish Association of Investigation, Exploration and Production of Hydrocarbons and Underground Storage-ACIEP and the Norwegian Oil Spill Control Association- NOSCA will be supporting the Summit.
More information about the Summit and IRN can be found on the website http://www.hsemedsummit.com.