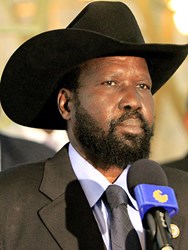 The Kiir's government tries to establish a tribe-blind society.
Juba, South Sudan (PRWEB) January 17, 2014
On January 14th, The Fashoda Institute, a leading African think-tank, has published its analysis of challenges facing President Kiir and official Juba in getting over the crisis. Fashoda analyses the roots of the coup's attempt "to restore a tribally-based system of power and resource distribution" and efforts of the current government to "establish a tribe-blind society and nation state", as well as gives historic background of the tribal tapestry in South Sudan: the youngest democracy which gained independence from Sudan in 2011 after decades of bloody liberation war between the predominantly Christian and animist South and the Moslem North.
Fashoda Institute analyses the tribe-blind approach to nation building and other reforms conducted prior to the coup by the President Salva Kiir Mayardit. President Kiir was elected by a landslide in 2011 and had less than two years to introduce sweeping reforms in the impoverished country devastated by decades of civil war. Additional difficulty was presented by the crises with Sudan when Khartoum closed the only pipeline delivering South's oil to international buyers – the pipeline goes through the territory of North Sudan. The Fashoda analysis also dissects President Obama's motives for giving diplomatic support to Machar. According to think-tank, Washington's motives "are in stark contrast with African states and other Western powers, all of which reject the coup and support the restoration of legitimate state authority in Juba". (The failed attempt of the US Special Envoy to bring Riek Machar to the negotiating table was reported by BBC on January 12, 2014).
Special attention in the report is given to analysis of ramifications of "the refusal of the main Nuer communities to rise up and support the Machar coup attempt". Fashoda tackles the question of why "the segments of the population which were to be the primary beneficiaries of the coup attempt prefer the tribe-blind nation building to short-term sectarian benefits".
"By mid-January 2014, the paramount challenges facing South Sudan were to heal the wounds and return to the concentrated effort to build the country", asserts the think-tank.
Analysis sums up the proposed road-map for Juba's moving forward: "With the financial shortages about to be resolved with oil revenues, Juba's focus should be on long-term reforms and development. Back in late 2013, Pres. Kiir was studying and preparing to pursue numerous regional and national development and reforms programs. These were shelved during the crisis.
"With the new Crisis Management Committee (CMC) at the helm, these programs should soon be resurrected and the original time-tables restored to the degree possible."